ÁGUA MOLE
GOCCIA DOPO GOCCIA
DROP BY DROP
09' 15'' – 2019 Portugal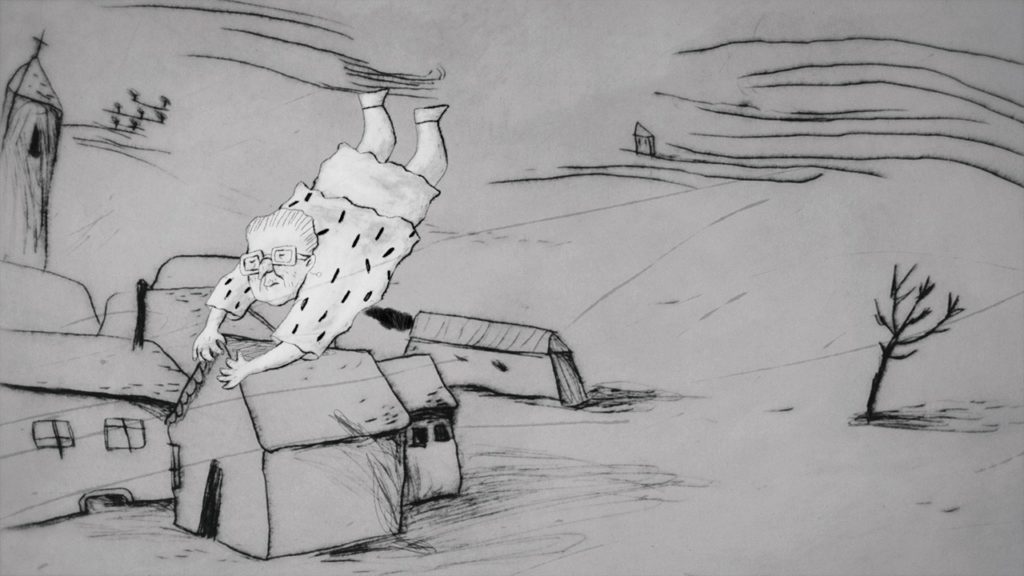 REGIA/DIRECTION: Alexandra Ramires (Xá), Laura Gonçalves
SCENEGGIATURA/SCRIPT: Alexandra Ramires (Xá), Carolina Freitas, Laura Gonçalves
INTERPRETI/CAST: Conceição Esteves, Horácia Alves, Fernando Escaleira, Diamantino
MONTAGGIO/EDITING: Alexandra Ramires (Xá), Laura Gonçalves
MUSICHE/MUSIC: Nico Tricot, Ricardo Santos Rocha
Gli ultimi abitanti di un paesino rifiutano di cedere all'oblio. In un mondo in cui l'idea del progresso sembra valere più di ogni altra cosa, questa casa galleggia.
The last inhabitants of a village refuse to let themselves sink into oblivion. In a world where the idea of progress appears to be above everything, this home floats.
ALL INCLUSIVE
TUTTO COMPRESO
10' – 2018 Switzerland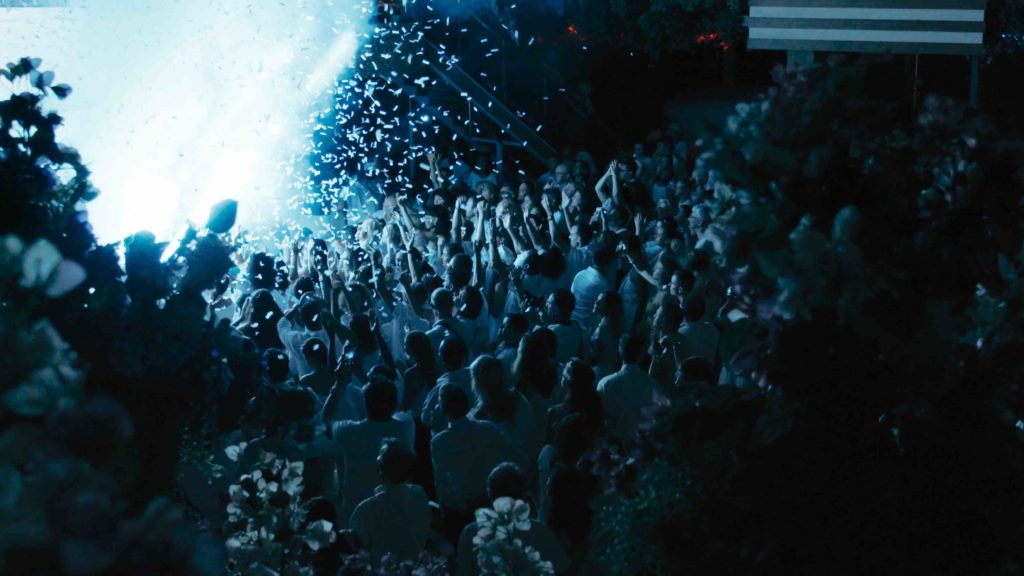 REGIA E SCENEGGIATURA/DIRECTION AND SCRIPT: Corina Schwingruber Ilić
MONTAGGIO/EDITING: Corina Schwingruber Ilić
MUSICHE/MUSIC: Heidi Happy
PRODUZIONE/PRODUCED BY: freihändler Filmproduktion, Stella Händler
FILMOGRAFIA DEL REGISTA/DIRECTOR'S FILMOGRAPHY:
Down on the Corner (2013, co-director), Just Another Day in Egypt (2015), Ins Holz (2017)
Incantati dall'intrattenimento di massa in alto mare.
Under the spell of mass entertainment on the high seas.
ALL THESE CREATURES
TUTTE QUESTE CREATURE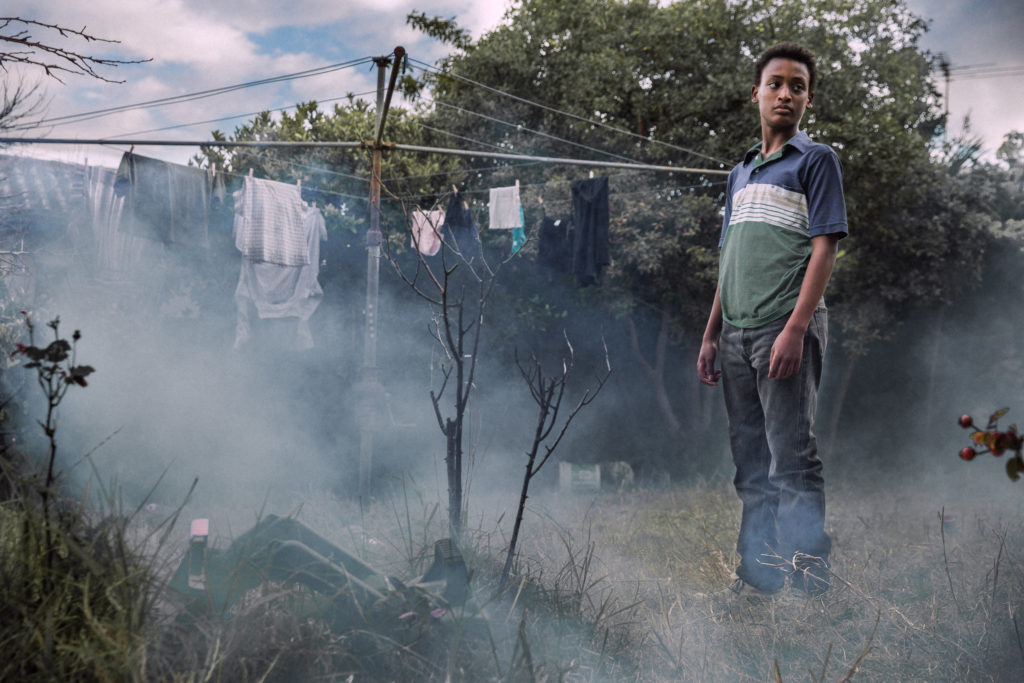 13' – 2018 Australia – VINCITORE FESTIVAL DI CANNES 2018
REGIA E SCENEGGIATURA/DIRECTION AND SCRIPT: Charles Williams
INTERPRETI/CAST: Yared Scott, Mandela Mathia, Helen Hailu, Melody Demessie
FOTOGRAFIA/CINEMATOGRAPHY: Adric Watson
MONTAGGIO/EDITING: Dan Lee, Charles Williams
FILMOGRAFIA DEL REGISTA/DIRECTOR'S FILMOGRAPHY:
I Can't Get Started (2002), The Cow Thief (2006), There Had Better Be Blood (2010), Home (2015)
Un ragazzo tenta di districare i ricordi di una misteriosa infestazione, del lento progredire della malattia mentale del padre e delle piccole creature dentro ciascuno di noi.
An adolescent boy attempts to untangle his memories of a mysterious infestation, the unraveling of his father, and the little creatures inside us all.
FLOREANA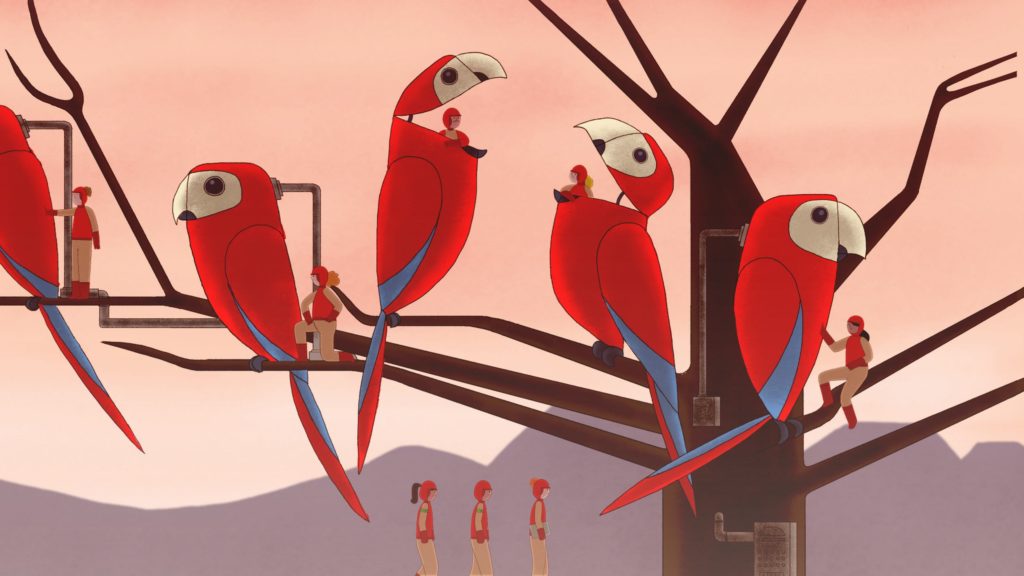 4' 5'' – 2018 Denmark, USA
REGIA E SCENEGGIATURA/DIRECTION AND SCRIPT: Lou Morton
FOTOGRAFIA/CINEMATOGRAPHY: Lou Morton
MONTAGGIO/EDITING: Lou Morton
PRODUZIONE/PRODUCED BY: The Open Workshop
FILMOGRAFIA DEL REGISTA/DIRECTOR'S FILMOGRAPHY:
Passer Passer (2013), Nose Hair (2016)
Su un'isola remota nel futuro, le persone si stanno addestrando per un'importante missione…
On a remote island in the future, people are training for an important mission…
FUEL
CARBURANTE
24' 27'' – 2019 Russia – ANTEPRIMA ITALIANA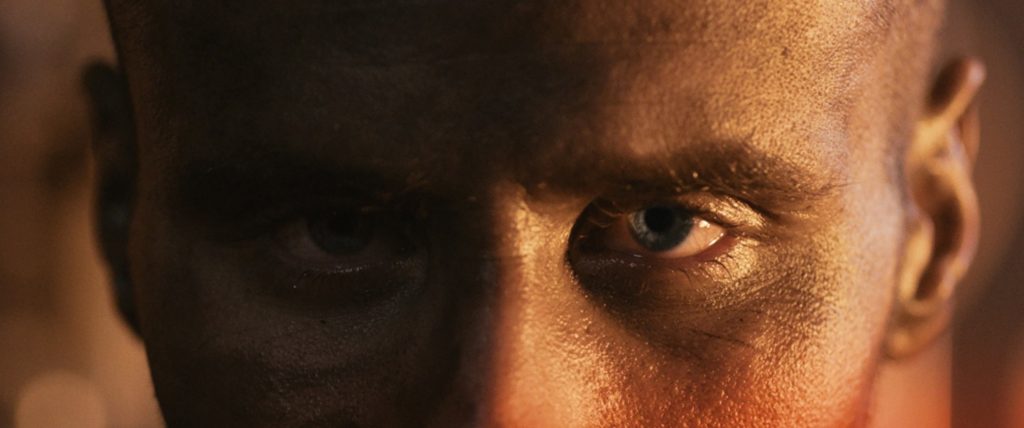 REGIA/DIRECTION: Mikhail Arkhipov
SCENEGGIATURA/SCRIPT: Mikhail Arkhipov, Irina Umanskaya
INTERPRETI/CAST: Nikita Kukushkin
FOTOGRAFIA/CINEMATOGRAPHY: Alexander Burov
MONTAGGIO/EDITING: Mikhail Arkhipov
MUSICA ORIGINALE/ORIGINAL SCORE: Alexander Laneev
PRODUZIONE/PRODUCED BY: Mikhail Arkhipov
FILMOGRAFIA DEL REGISTA/DIRECTOR'S FILMOGRAPHY:
Russian Six (2018)
Un uomo è alla ricerca di carburante per il suo trattore in panne. Lungo la strada non trova altro che vento e terre desolate. Per raggiungere il suo obiettivo lotta con una natura disumana. Una volta trovata la fonte di energia, l'era del ventesimo secolo comincerà.
A man is searching for some fuel for his stalled tractor. There is nothing but wasteland and wind along the road. To reach his goal he is struggling with inhumane nature. Once the energy source is found, the era of the twentieth century will begin.

GLOBAL W
15' – 2019 Italy
REGIA/DIRECTION: Matteo Macaluso
SCENEGGIATURA/SCRIPT: Matteo Macaluso
INTERPRETI/CAST: Studenti della Scuola Media Balletti di Quattro Castella (RE)
MUSICA ORIGINALE/ORIGINAL SCORE: Saverio Settembrino
PRODUZIONE/PRODUCED BY: Scuola Media Balletti
FILMOGRAFIA DEL REGISTA/DIRECTOR'S FILMOGRAPHY:
Stateless (2005, co-director), Vercinge (2009), Al crepuscolo (2011), Tears (2012), Mio Padre (2017), Rifugio (2018), Altromondo (2018)
A causa dei cambiamenti climatici, il mondo che conosciamo non esiste più. In un futuro prossimo, gli uomini vivono in ambienti controllati e uscire all'esterno non è più possibile. Chiusi dentro un avamposto, alcuni ragazzi si ritrovano improvvisamente ad affrontare una situazione critica. Gli unici adulti del gruppo non hanno più fatto ritorno da una spedizione all'esterno.
Because of climate change, the world we know has ceased to exist. In the near future, men live in a controlled environment and going outside is no longer possible. Locked inside an outpost, some teenagers find themselves faced with a critical situation. The only adults in their midst went on an outside expedition but never made it back.

ICEBERG NATIONS
NAZIONI ICEBERG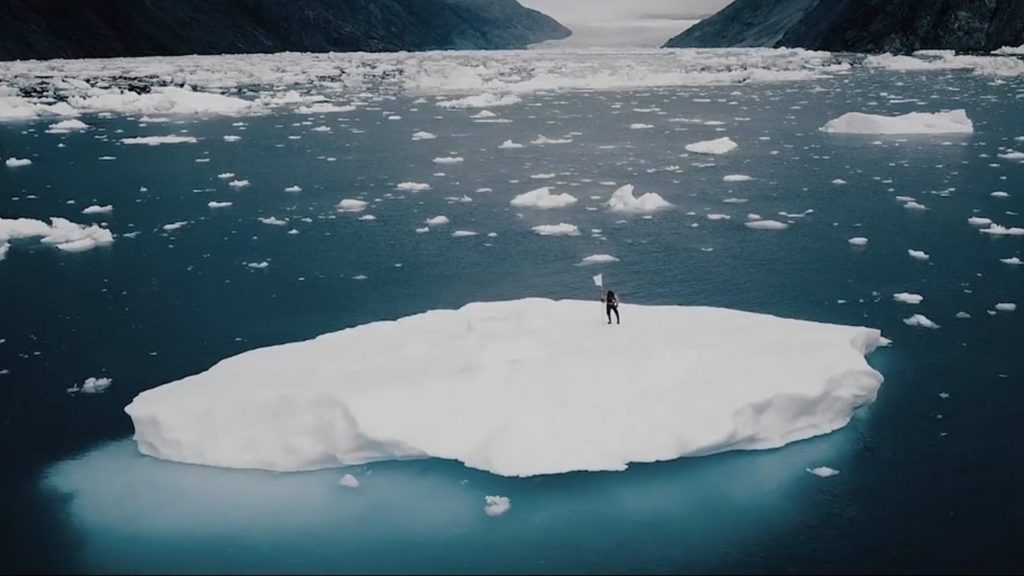 4' – 2019 Spain
REGIA E SCENEGGIATURA/DIRECTION AND SCRIPT: Fernando Martín Borlán
FOTOGRAFIA/CINEMATOGRAPHY: Fernando Martín Borlán
MONTAGGIO/EDITING: Fernando Martín Borlán
PRODUZIONE/PRODUCED BY: Fernando Martín Borlán
Le nazioni sono liquide ed effimere ma… che cos'è una nazione?
Nations are liquid and ephemeral but… what is a nation?
IL RAGAZZO CHE SMISE DI RESPIRARE
THE BOY WHO STOPPED BREATHING
13' – 2019 Italy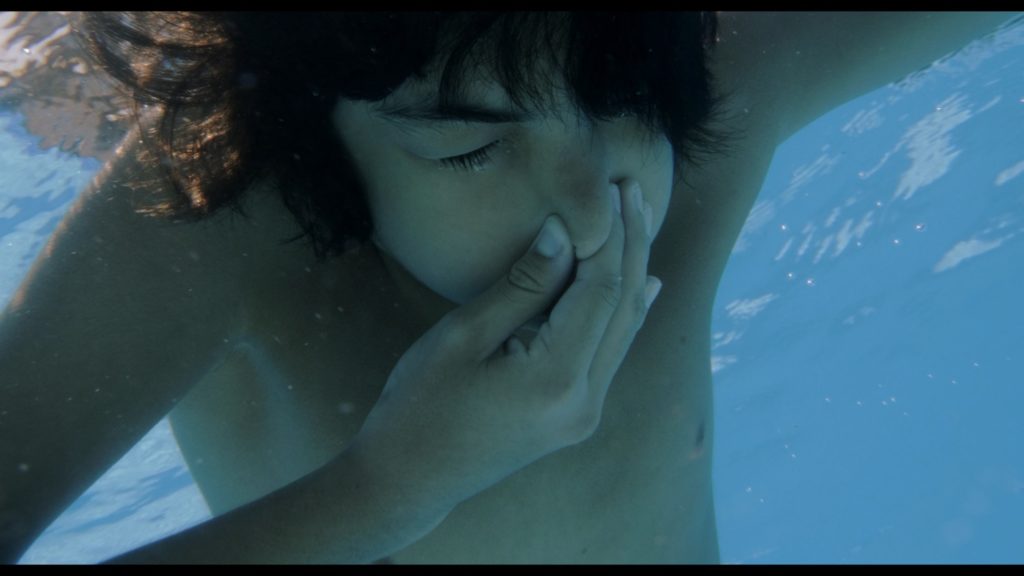 REGIA E SCENEGGIATURA/DIRECTION AND SCRIPT: Daniele Lince
INTERPRETI/CAST: Alex W. Syed, Virginia Ruth Cerqua, Simone Moretto, Maya Panico, Gabriele Bocchio
FOTOGRAFIA/CINEMATOGRAPHY: Domenico Bruzzese, Davide Piazzolla
MONTAGGIO/EDITING: Daniele Lince
MUSICA ORIGINALE/ORIGINAL SCORE: Simone Lampedone (original music), Nicolas Roncea (songs)
PRODUZIONE/PRODUCED BY: Elena Beatrice
FILMOGRAFIA DEL REGISTA/DIRECTOR'S FILMOGRAPHY:
Strange Encounters (2004), Forget About Me (2006), We Shoot In Black & White (2008), Carillon (2009), Skin (2011), Sex Drugs & Slot Machines (2012), Little Gods (2013), The Mourners (2014), Mario & Netta Show (2014), The Price (2015), Alone Together (2016), The Scientist Of Sound (2017), How To Become A Zombie (2017), Watch The Tempo (2018), Get big (2018), Revirgination (2018)
Max ha 11 anni ed è ossessionato dall'inquinamento atmosferico. Decide quindi di smettere di respirare – o almeno vuole farlo il meno possibile per vivere più a lungo. Ci riuscirà?
Max is 11 years old and he's obsessed with air pollution. Therefore, he decides to stop breathing – or at least he wants to do it as little as possible in order to live longer. Will he succeed?
IMBUED LIFE
VITA IMBEVUTA
12' 15'' – 2019 Croatia – ANTEPRIMA ITALIANA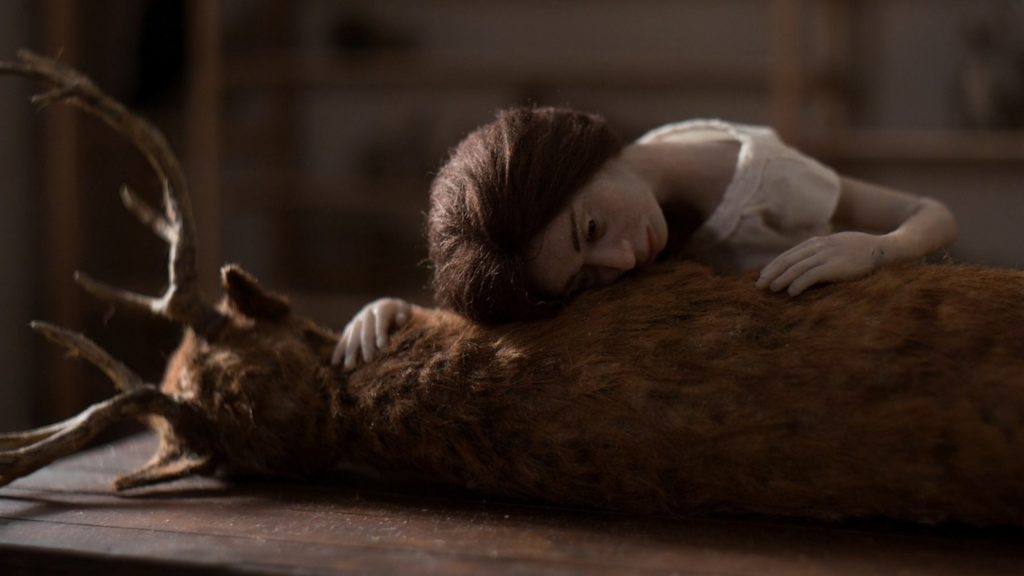 REGIA E SCENEGGIATURA/DIRECTION AND SCRIPT: Ivana Bosnjak, Thomas Johnson
INTERPRETI/CAST: Rakan Rushaidat
FOTOGRAFIA/CINEMATOGRAPHY: Ivan Slipcevic
MONTAGGIO/EDITING: Iva Kraljevic
MUSICA ORIGINALE/ORIGINAL SCORE: Andrea Martignoni
PRODUZIONE/PRODUCED BY: Bonobostudio
FILMOGRAFIA DEL REGISTA/DIRECTOR'S FILMOGRAPHY:
Crossed Sild (2010), Simulacra (2014)
Una giovane donna, intensamente connessa alla forza vitale della natura, utilizza la tassidermia per riportare gli animali al loro habitat naturale. Quando scopre rotoli di pellicola non sviluppati all'interno dei loro corpi, trovare una spiegazione diventa un'ossessione.
A young woman has an intense connection to the life force of nature and uses taxidermy to return animals to their natural habitat. She discovers rolls of undeveloped film inside the animals and becomes obsessed with finding an explanation.
LET'S GO TO ANTARCTICA!
ANDIAMO IN ANTARTIDE!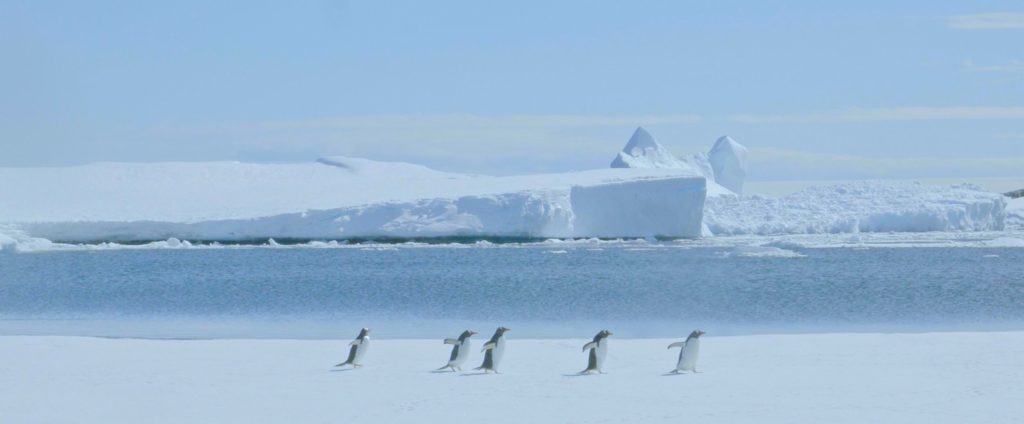 5' – 2018 Spain
REGIA/DIRECTION: Gonzaga Manso
SCENEGGIATURA/SCRIPT: Gonzaga Manso
INTERPRETI/CAST: Raúl Cimas, Richard Collins-Moore, Carlos Caraglia
FOTOGRAFIA/CINEMATOGRAPHY: Gonzaga Manso
MONTAGGIO/EDITING: Gonzaga Manso
MUSICHE/MUSIC: Gonzaga Manso
PRODUZIONE/PRODUCED BY: Películas Pendelton
Carlos è un essere umano in vacanza in Antartide. I pinguini, che non hanno macchine fotografiche, si dimenticheranno di Carlos.
Carlos is a human being who is currently on holiday in Antarctica. The penguins, who do not have cameras, will forget all about Carlos.
L'UOMO DEGLI ALBERI
THE MAN OF THE TREES
18' 55'' – 2018 Italy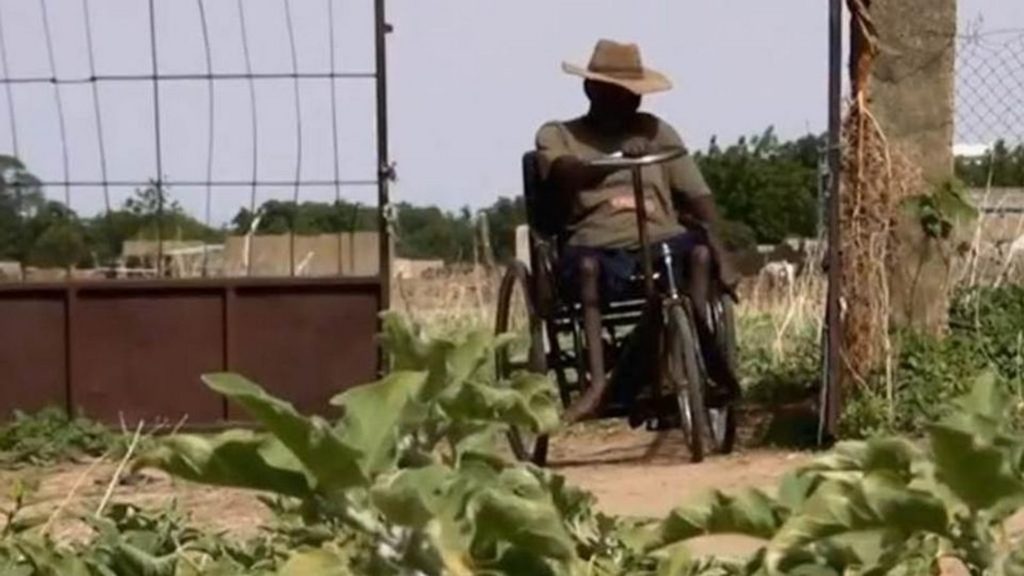 REGIA E SCENEGGIATURA/DIRECTION AND SCRIPT: Andrea Trivero
INTERPRETI/CAST: Daniel Balimà
FOTOGRAFIA/CINEMATOGRAPHY: Francesca Morosini
MONTAGGIO/EDITING: Emanuele Cusimano, Andrea Longhin
MUSICHE/MUSIC: Balakè Sissoko
PRODUZIONE/PRODUCED BY: Pacefuturo onlus
Daniel Balima è un anziano orticoltore e vivaista di Tenkodogo, una piccola cittadina dell'Africa Subsahariana nel Burkina Faso. Pur crescendo senza l'uso delle gambe, lavora nel vivaio di famiglia, affrontando le difficoltà legate alla sua condizione fisica e al territorio. Nei cinquant'anni di attività, ha dato vita a più di un milione di alberi e sogna ancora di piantarne un altro milione.
Daniel Balima is a senior horticulturist and nurseryman from Tenkodogo, a small Sub-Saharan African town in Burkina Faso. Despite growing without the use of his legs, he works in the family nursery, facing the difficulties the territory and his physical condition present. In over fifty years, he has given life to over a million trees and he still dreams of planting one million more.
OFF THE GRID
ISOLATO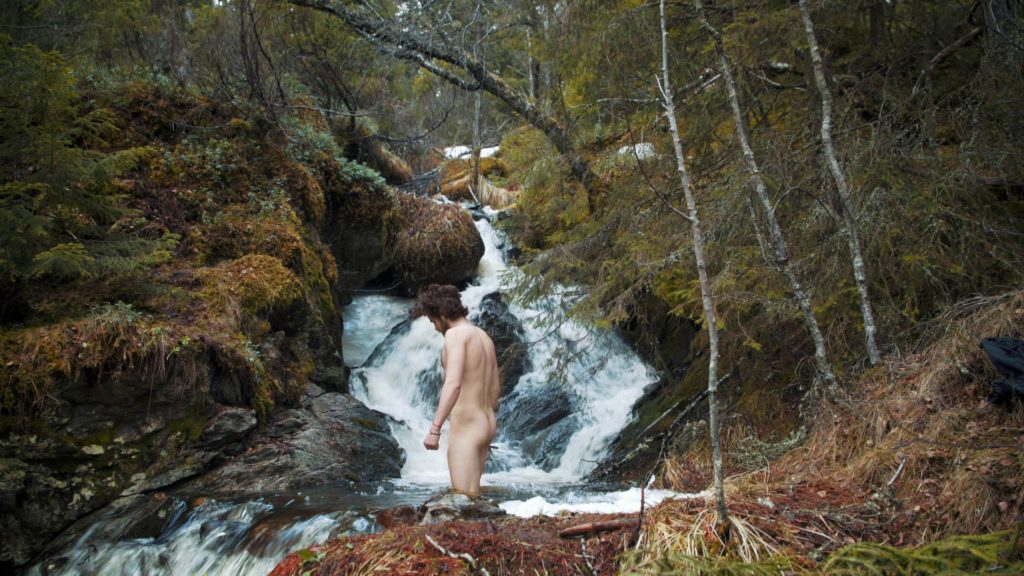 12' 30" – 2019 Norway – ANTEPRIMA ITALIANA
REGIA E SCENEGGIATURA/DIRECTION AND SCRIPT: Vegard Dahle
FOTOGRAFIA/CINEMATOGRAPHY: Henrik Flatås
MONTAGGIO/EDITING: Øyvinn Kastnes
MUSICA ORIGINALE/ORIGINAL SCORE: Kristoffer Lo
PRODUZIONE/PRODUCED BY: Håvard Wettland Gosse
FILMOGRAFIA DEL REGISTA/DIRECTOR'S FILMOGRAPHY:
Your Turn (2012), Eye (2017)
Ola Ravn sogna di vivere la vita a modo suo. Decide di costruire una piccola casa isolata da tutto, in grado di purificare l'acqua piovana e accumulare energia solare. Vuole provare che è possibile vivere una vita sobria ma agiata, economicamente indipendente e con uno stile di vita sostenibile. Suo padre, tuttavia, trova quest'idea sciocca ed egoista.
Ola Ravn dreams of living on his own terms. He decides to build an off-the-grid mini house that purifies rainwater and gathers its own solar power. He wants to prove that it's possible to live a life that is both sober and rich, with economic freedom and a sustainable lifestyle. His father, however, thinks this idea is silly and selfish.
OSTATNIA BAJKA O ZIEMI
L'ULTIMO RACCONTO SULLA TERRA
THE LAST TALE ABOUT EARTH
17' – 2018 Poland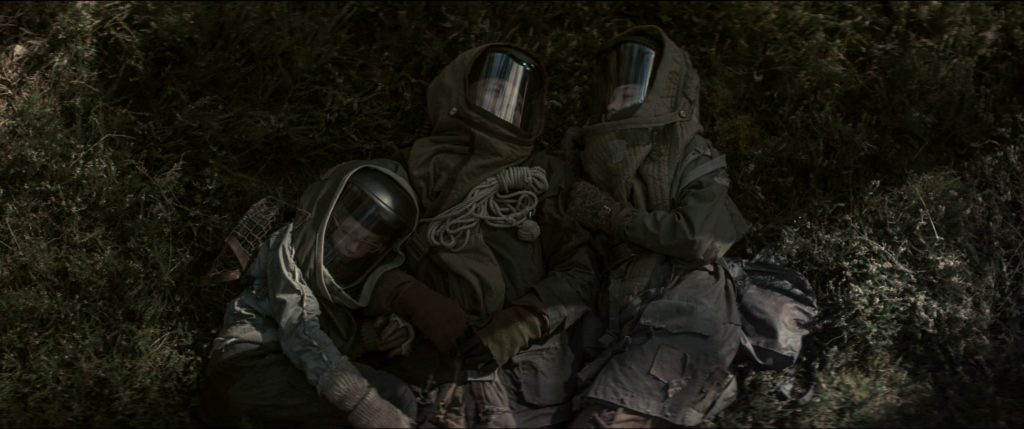 REGIA/DIRECTION: Magdalena Seweryn, Igor Polaniewicz
SCENEGGIATURA/SCRIPT: Magdalena Seweryn
INTERPRETI/CAST: Slawomir Grzymkowski, Natalia Sztabinska, Igor Sztabinski
FOTOGRAFIA/CINEMATOGRAPHY: Magdalena Seweryn
MONTAGGIO/EDITING: Patrycja Pirog
MUSICA ORIGINALE/ORIGINAL SCORE: Jan Sanejko
PRODUZIONE/PRODUCED BY: University of Silesia
Un padre e i suoi due figli faticano a sopravvivere in uno scenario post-apocalittico. Un misterioso segnale dall'esterno li sprona ad affrontare ciò che si cela oltre il mondo che conoscono.
A father and his two children struggle to survive in a post-apocalyptic world. A mysterious signal from the outside becomes their motivation to face what hides beyond their known world.
OUT OF PLASTIC
SENZA PLASTICA
19' – 2018 Spain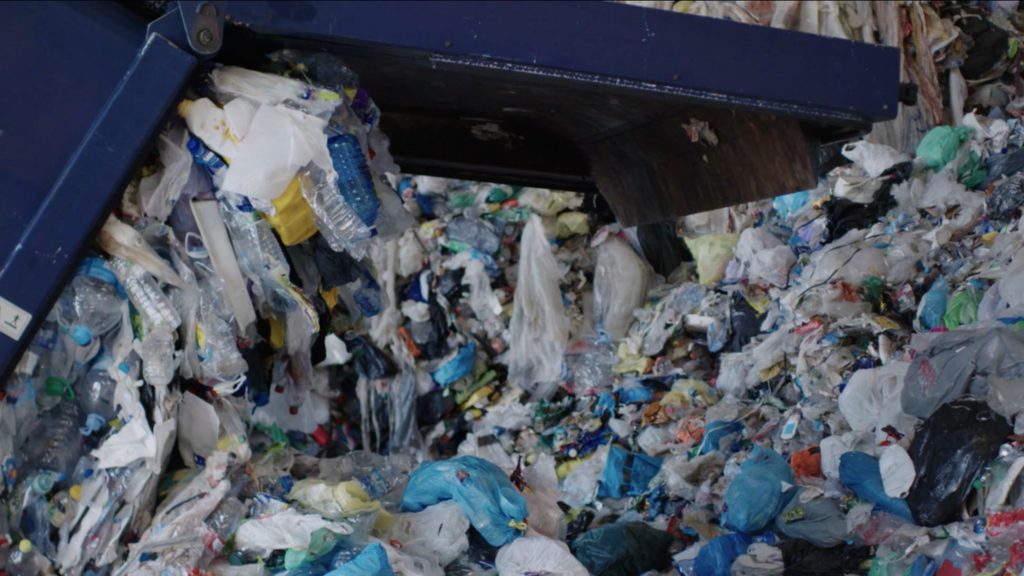 REGIA E SCENEGGIATURA/DIRECTION AND SCRIPT: Line Hadsbjerg
FOTOGRAFIA/CINEMATOGRAPHY: Pep Bonet, Francisco Marquez, Manu San Felix
MONTAGGIO/EDITING: Jose Bautista
MUSICHE/MUSIC: Jose Bautista
PRODUZIONE/PRODUCED BY: Altamar TV
Un'esplorazione delle oscure profondità della plastica nel Mediterraneo, tra paesaggi in lacrime e mistiche profondità oceaniche – il punto d'incontro tra uomo e natura. Una riflessione sulla massiccia presenza della plastica nelle nostre vite e nel nostro ambiente naturale.
Exploring the obscure depths of plastics in the Mediterranean Sea, among weeping landscapes and mystic ocean depths – the point of encounter between man and nature. A reflection on the profound presence of plastic in our lives and in our natural environment.
REALMS
REGNI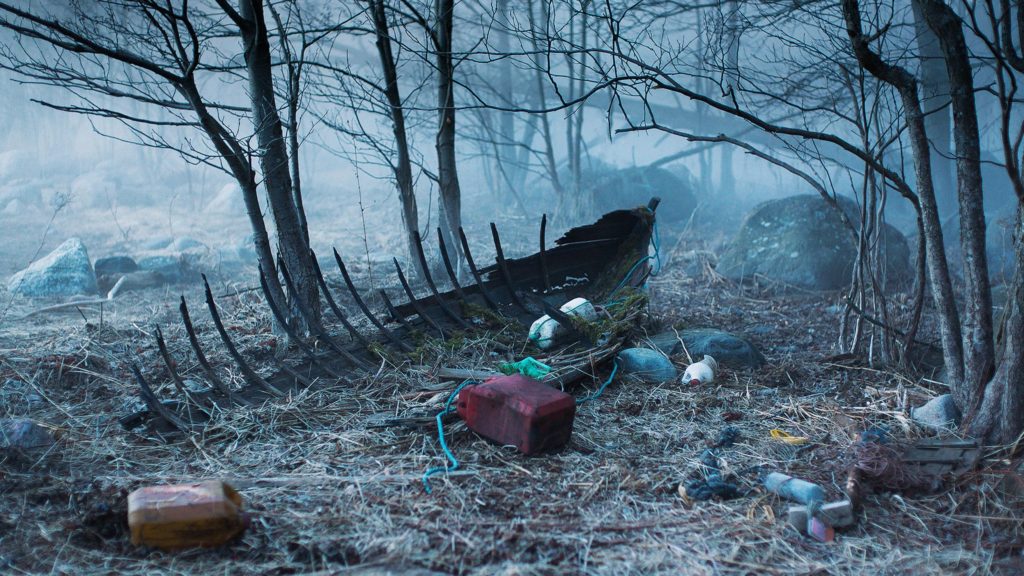 19' 38" – 2018 Finland
REGIA E SCENEGGIATURA/DIRECTION AND SCRIPT: Patrik Söderlund
FOTOGRAFIA/CINEMATOGRAPHY: Jussi Eerola
MONTAGGIO/EDITING: Jussi Eerola, Mika Taanila
MUSICA ORIGINALE/ORIGINAL SCORE: Max Savikangas
PRODUZIONE/PRODUCED BY: Jussi Eerola
Esplorazione di ere geologiche, reami, regni di vita e di estinzioni di massa, viaggi nella profondità del tempo dall'oceano primordiale al futuro post-umano.
Exploring geological epochs, realms, kingdoms of life and mass extinctions, voyages through deep time from the primeval ocean to the post-human future.
THE GIRL
LA RAGAZZA
16' – 2018 Belgium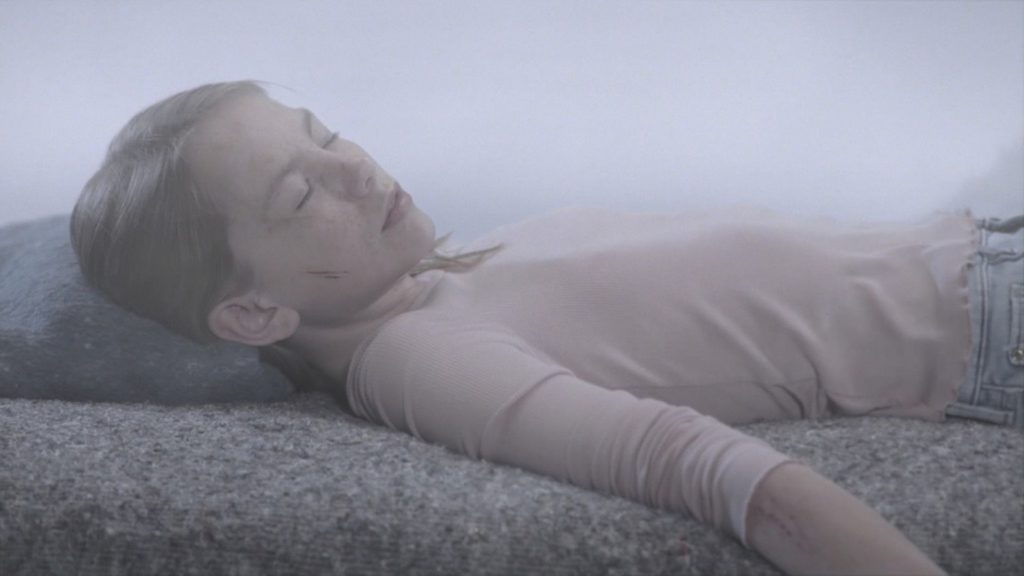 REGIA E SCENEGGIATURA/DIRECTION AND SCRIPT: Hans Op De Beeck
INTERPRETI/CAST: Elsa Houben
FOTOGRAFIA/CINEMATOGRAPHY: Hans Op De Beeck
MONTAGGIO/EDITING: Hans Op De Beeck
MUSICHE/MUSIC: Tom Pintens
PRODUZIONE/PRODUCED BY: Studio Hans Op de Beeck
Una ragazza sta dormendo. Nei suoi ricordi, una splendida casa di campagna. Sogna una nuova vita in un camper tra i boschi. Una passeggiata notturna attraverso immagini associative.
A girl is asleep. In her memory, she lived in a beautiful country house. Now she dreams up a new life in a caravan in the woods. A night walk across this improvised, new home through associative images.
THE LONELY ORBIT
L'ORBITA SOLITARIA
9' 20" – 2019 Switzerland
REGIA/DIRECTION: Frederic Siegel, Benjamin Morard
SCENEGGIATURA/SCRIPT: Frederic Siegel
MONTAGGIO/EDITING: Benjamin Morard
MUSICA ORIGINALE/ORIGINAL SCORE: Luc Gut, Norman Chambers, Geva Alon
PRODUZIONE/PRODUCED BY: Team Tumult
FILMOGRAFIA DEL REGISTA/DIRECTOR'S FILMOGRAPHY:
Frederic Siegel: Ruben Leaves (2015), Honour (2018)
Benjamin Morard: Star Track (2014)
Un tecnico satellitare, in partenza per il lavoro che ha sempre sognato, tiene a bada la solitudine messaggiando continuamente con i suoi vecchi amici. Per colpa della sua negligenza, un satellite lascia la sua orbita e causa il collasso della rete globale.
Leaving for his dream job, a satellite technician keeps solitude at bay by constantly texting with his old friends. Due to his negligence, a satellite leaves its orbit, causing the world's network to collapse.
THE OSTRICH POLITIC
LA POLITICA DELLO STRUZZO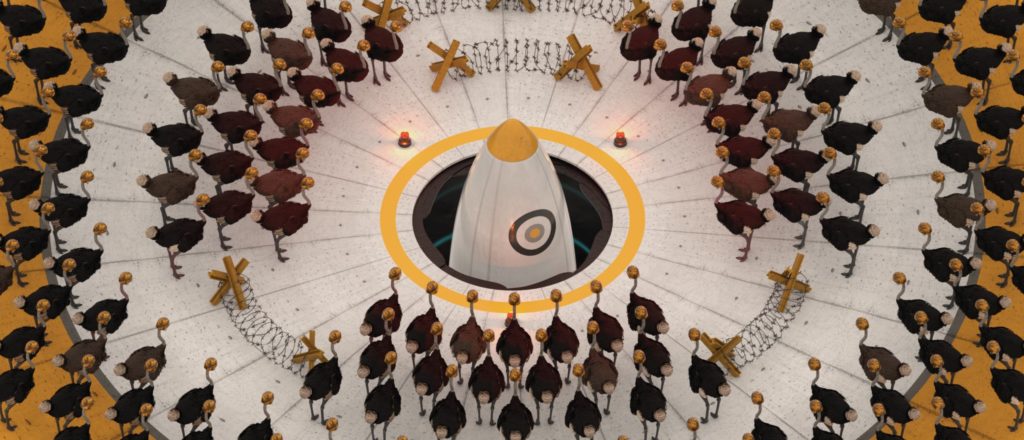 6' 16" – 2018 France
REGIA E SCENEGGIATURA/DIRECTION AND SCRIPT: Mohamad Houhou
MONTAGGIO/EDITING: Cèdric Denooz, Véronique Goupil
MUSICHE/MUSIC: Amandine Robillard, Anna Cordonnier
PRODUZIONE/PRODUCED BY: Gobelins, l'Ecole de l'Image
Gli struzzi conducono le proprie attività giornaliere seppellendo la testa, convinti che il loro sia un comportamento istintivo. Un giorno, tuttavia, la ricerca del filogenetista Dr. Kais dimostra il contrario.
Ostriches carry on their daily activities burying their heads, convinced that theirs is an instinctive behavior. However, one day, a research by phylogeneticist Dr. Kais proves otherwise.
THE WIND PHONE
IL TELEFONO DEL VENTO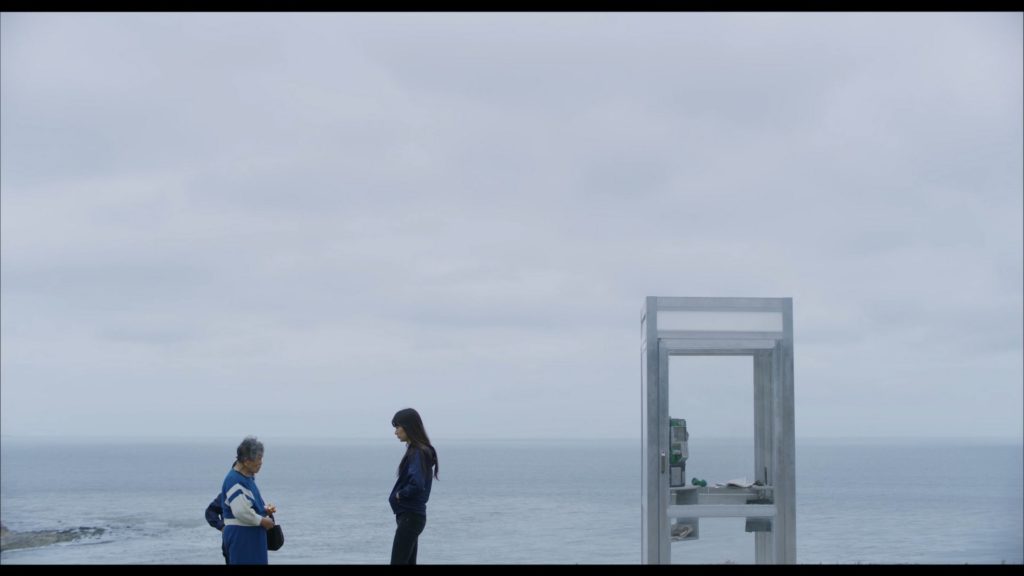 15' – 2019 USA
REGIA E SCENEGGIATURA/DIRECTION AND SCRIPT: Kristen Gerweck
INTERPRETI/CAST: Miho Ando, Natsuko Aoike, Linda Chung, Akari Harada, Megumi Kabe, Jobson Kimura, Brandon Lew, Hitoshi Masaki, Yukina Takase, Sascha Tominaga, Hiroshi Watanabe
FOTOGRAFIA/CINEMATOGRAPHY: Jon Keng
MONTAGGIO/EDITING: Minh Bui
PRODUZIONE/PRODUCED BY: Halee Bernard, Kristin DeCesare, Geenah Krisht, Armando Christian Pérez, Linda Christina Riedmann, Alexandra Zosman
FILMOGRAFIA DEL REGISTA/DIRECTOR'S FILMOGRAPHY:
East Ramadi (2016)
Una cabina telefonica a picco sull'oceano riunisce sette estranei, le cui conversazioni apparentemente diverse sono collegate da una straziante realtà.
A phone booth on an ocean cliffside brings together seven strangers, whose seemingly different conversations are connected by one harrowing reality.
THERMOSTAT 6
TERMOSTATO 6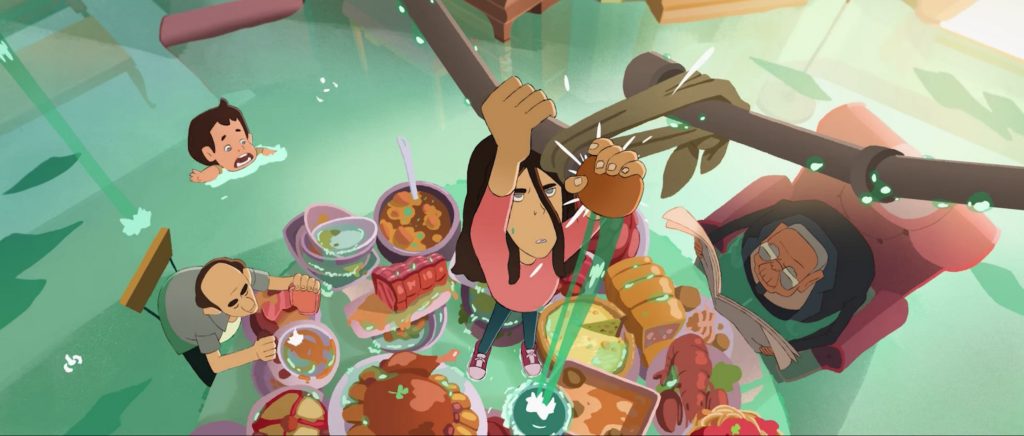 4' 48" – 2018 France
REGIA E SCENEGGIATURA/DIRECTION AND SCRIPT: Maya Av-Ron, Mylène Cominotti, Marion Coudert, Sixtine Dano
MONTAGGIO/EDITING: Véronique Goupil
MUSICHE/MUSIC: Arthur Dairaine
PRODUZIONE/PRODUCED BY: Gobelins, l'École de l'Image
FILMOGRAFIA DEL REGISTA/DIRECTOR'S FILMOGRAPHY:
Sixtine Dano: My Pleasure (2017)
Diane non può più far finta di non vedere la perdita che gocciola dal soffitto sul tavolo da pranzo…
Diane is done pretending that she can't see the leak dripping from the ceiling onto the dinner table…
THINGS BREAK IN
LE COSE IRROMPONO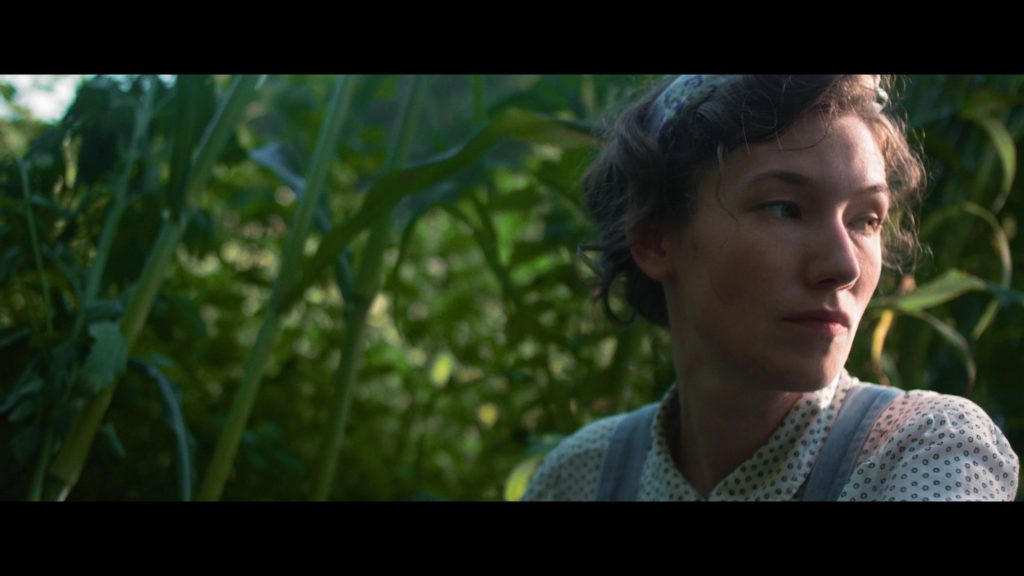 6' – 2017 USA
REGIA E SCENEGGIATURA/DIRECTION AND SCRIPT: Tess Harrison
INTERPRETI/CAST: Tess Harrison, Maria Wilson
FOTOGRAFIA/CINEMATOGRAPHY: Seamus Mulligan Ferry
MONTAGGIO/EDITING: Vero Vackova
MUSICA ORIGINALE/ORIGINAL SCORE: Osei Essed
PRODUZIONE/PRODUCED BY: Tess Harrison, Sam Harris
FILMOGRAFIA DEL REGISTA/DIRECTOR'S FILMOGRAPHY:
It's Perfect Here (2014), Cling (2017), Happy Vacation (2017), Take Me Out With the Stars (2017), Dog (2018)
Un intimo ritratto di indipendenza e amore. Ida e Rosa lavorano in una fattoria per sostenere le loro famiglie durante la guerra. Nella libertà trovano l'amore, sotto lo sguardo innocente della natura.
An intimate portrait of independence and love. Ida and Rosa work on a farm to support their families during wartime. In freedom they find love, under the innocent gaze of nature.