Вічність
ETERNITÀ
ETERNITY
24' – 2018 Ukraine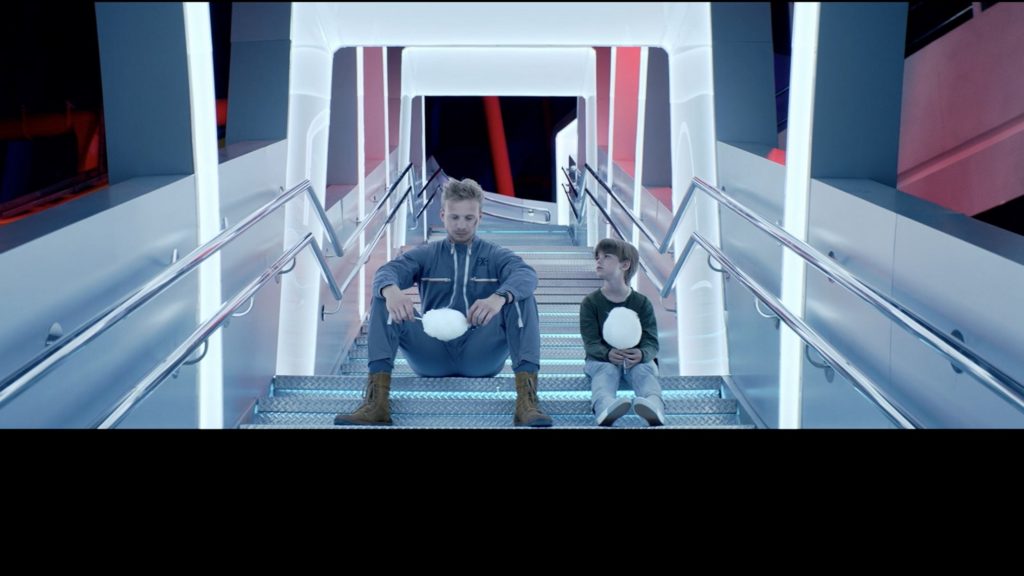 REGIA/DIRECTION: Anna Sobolevska
SCENEGGIATURA/SCRIPT: Anna Sobolevska, Alina Semeryakova
INTERPRETI/CAST: Oleg Moskalenko, Daria Plahtiy, Andriy Zhurba
FOTOGRAFIA/CINEMATOGRAPHY: Denis Lushchik
MONTAGGIO/EDITING: Alexander Chorny
MUSICHE/MUSIC: Nikita Moiseev
PRODUZIONE/PRODUCED BY: Vladimir Yatsenko, Anna Sobolevska
L'umanità ha sconfitto la morte. Le grandi società digitalizzano le anime dei moribondi e le immettono nel mondo digitale. Ian è fortemente contrario alla digitalizzazione, ma quando un incidente d'auto mette in pericolo la vita della moglie, dovrà andare contro i suoi principi per salvarla.
Humanity has conquered death. Corporations digitize the souls of the dying and place them in the digital world. Ian is strongly against digitalizing, but when a car crash puts his wife's life at risk, he will have to go against his principles to save her.
Чик-Чирик
CIP-CIP
TWEET-TWEET
11' 40'' – 2018 Russia
REGIA E SCENEGGIATURA/DIRECTION AND SCRIPT: Zhanna Bekmambetova
INTERPRETI/CAST: Voices: Irina Grishina, Tatyana Kosmacheva, Kirill Komarov
MONTAGGIO/EDITING: Zhanna Bekmambetova
MUSICA ORIGINALE/ORIGINAL SCORE: Yuriy Poteyenko
PRODUZIONE/PRODUCED BY: CGF, Bazelevs
Vivere è come camminare su una fune. Quando ci sentiamo persi o impauriti, perdiamo l'equilibrio. Quando siamo felici o eccitati, dimentichiamo di essere su una fune. Possiamo anche volare!
Living is like walking on a tightrope. When we are scared or lost, we lose balance. When we are happy and excited, we forget we're walking on a rope. We can even fly!
Ο αδερφός μου
MIO FRATELLO
MY BROTHER
4' – 2018 Greece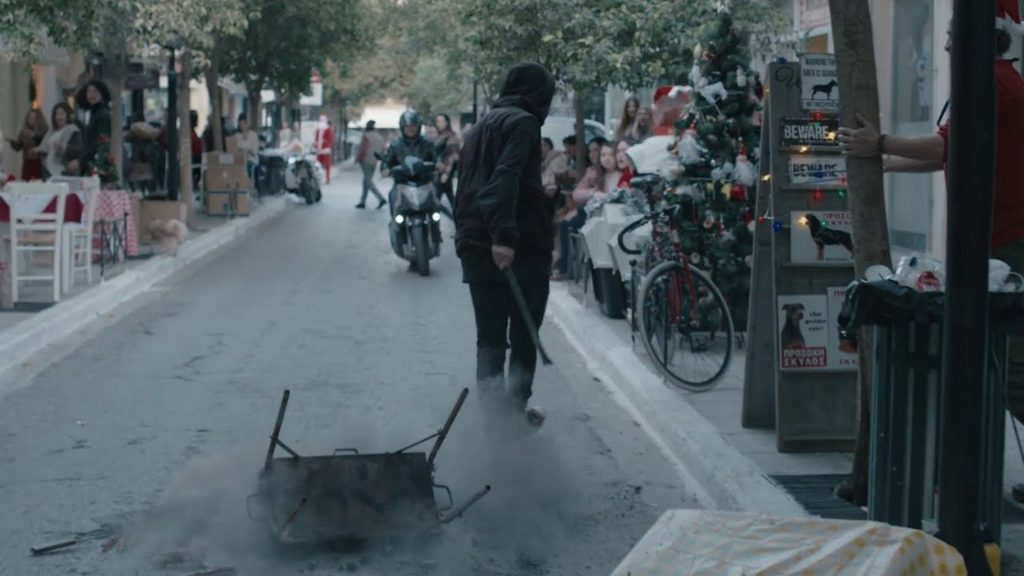 REGIA/DIRECTION: Theo Papadoulakis
SCENEGGIATURA/SCRIPT: Panagiotis Papoutsakis, Theo Papadoulakis
INTERPRETI/CAST: Giorgos Christoulakis, Niki Giakoumaki, Eleni Papadaki, Theofilos Christoulakis
FOTOGRAFIA/CINEMATOGRAPHY: Vangelis Katritzidakis
MONTAGGIO/EDITING: Theo Papadoulakis, Manolis Kolokotronis
PRODUZIONE/PRODUCED BY: Indigo View Productions, Alexandra Manousakis
FILMOGRAFIA DEL REGISTA/DIRECTOR'S FILMOGRAPHY:
Alarga (2002), Pilala (2004), Samoure (2005), Baba Min Treheis (2007), To Nisi (2010), To Nisi: I Alithini Istoria (2011), Oi Episkeptes (2015), Follow the Wind (2016 ), I Lexi Pou De Les (2017)
Vigilia di Natale. In una trafficata strada di negozi, un ragazzo con un piede di porco provoca il caos più totale.
Christmas Eve. On a busy shopping street, a young man with a crowbar causes total chaos.
AIR COMPRIMÉ
ARIA COMPRESSA
SHOOTERS
23' – 2018 France – ANTEPRIMA ITALIANA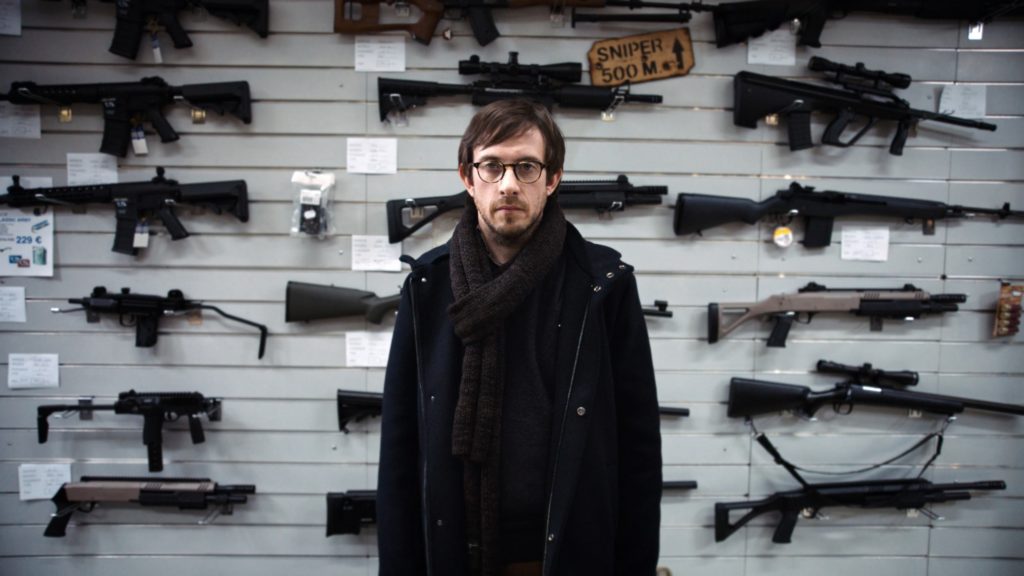 REGIA/DIRECTION: Antoine Giorgini
SCENEGGIATURA/SCRIPT: Antoine Giorgini
INTERPRETI/CAST: Thomas Blanchard, Hélène McNeese
FOTOGRAFIA/CINEMATOGRAPHY: Sébastien Goepfert
MONTAGGIO/EDITING: Marie Loustalot
MUSICA ORIGINALE/ORIGINAL SCORE: Antoine Giorgini, Richard Rosefort
PRODUZIONE/PRODUCED BY: Deuxième Ligne Films
FILMOGRAFIA DEL REGISTA/DIRECTOR'S FILMOGRAPHY:
Les brigands (2013), Réplique (2016)
Vincent, insegnante di matematica alle superiori, non ha alcuna autorità sui suoi studenti. Quando gli sparano con un fucile da paintball mentre è con la moglie, incinta di cinque mesi, si convince che il tiratore sia uno dei suoi studenti.
Vincent, a high-school math teacher, has no authority over his students. When he is shot with a paintball gun while out with his five-month-pregnant wife, he convinces himself that the shooter is one of his students.
ALLEIN MIT DIR
SOLA CON TE
ALONE WITH YOU
17' – 2019 Germany – EUROPEAN PREMIÈRE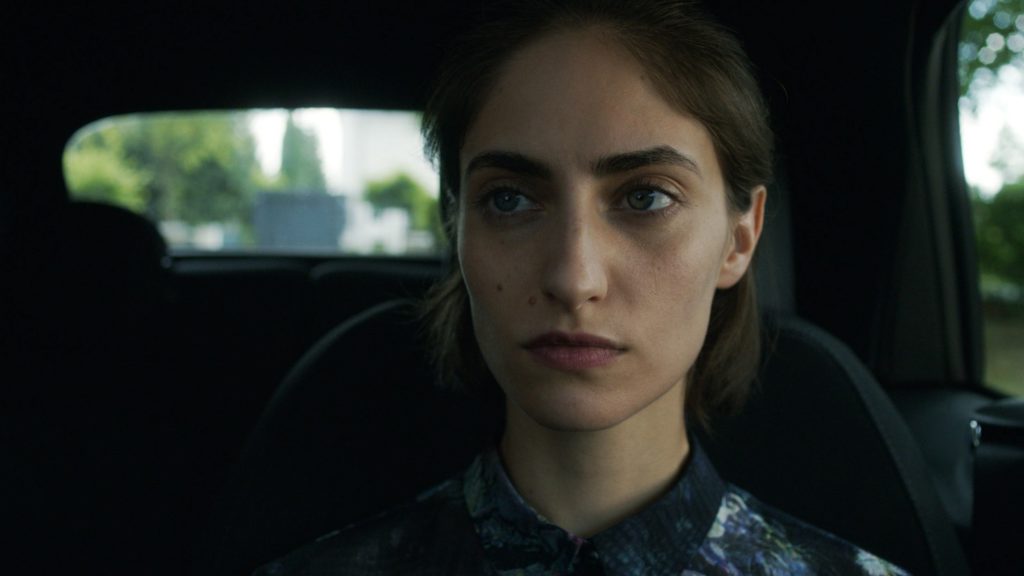 REGIA/DIRECTION: Lynn Oona Baur
SCENEGGIATURA/SCRIPT: Lynn Oona Baur, Julian Niedermeier
INTERPRETI/CAST: Jasmina Al Zihairi, Kerstin Fernström, Harald Maack
FOTOGRAFIA/CINEMATOGRAPHY: Daniel Leibold
MONTAGGIO/EDITING: Robert Strauß
MUSICHE/MUSIC: Meredi Arakelian
PRODUZIONE/PRODUCED BY: Hamburg Media School
FILMOGRAFIA DEL REGISTA/DIRECTOR'S FILMOGRAPHY:
Anna (2009), Rotkäppchen (2017), Queen of Oasis (2017)
Dopo diversi anni di lontananza, Laura torna a casa e dal padre affetto da demenza.
After years of being away, Laura returns to her family home and to her father, who is suffering from dementia.
ARTEM SILENDI
7' 25'' – 2019 France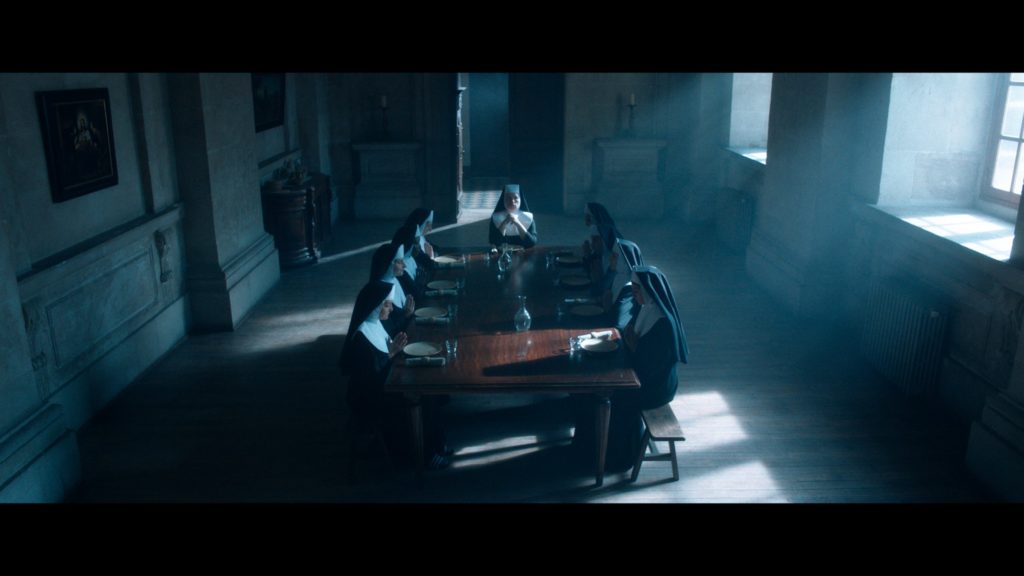 REGIA/DIRECTION: Frank Ychou
SCENEGGIATURA/SCRIPT: Cécile Larripa, Philippe Pinel
INTERPRETI/CAST: Catherine Hosmalin, Barbara Bolotner, Emmanuelle Bougerol, Marie-Hélène Lentini, Pénélope-Rose Lévêque, Mickaël Rozen, Gigi Lendron, Odile Vilmer
FOTOGRAFIA/CINEMATOGRAPHY: Elodie Tahtanne
MONTAGGIO/EDITING: Mickaël Dumontier
MUSICHE/MUSIC: D.y.E
In un convento le suore si riuniscono per la cena. A quanto pare, le suore sono prima di tutto esseri umani, e quindi peccatrici, proprio come chiunque altro.
In a convent, nuns gather for supper. Apparently, nuns are first and foremost human beings, therefore sinners, just like anybody else.
BACKGROUND
SECONDO PIANO
15' – 2018 Spain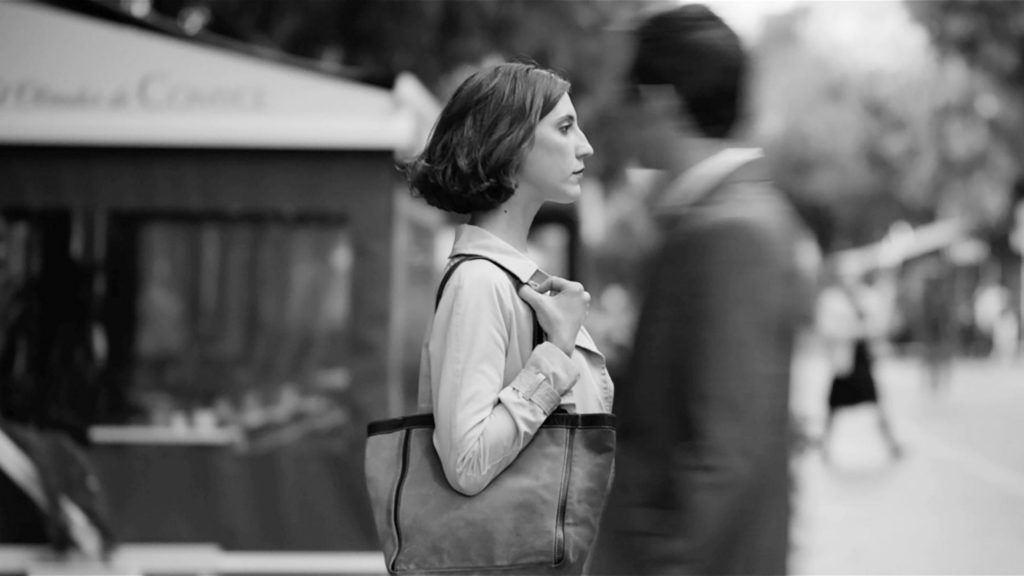 REGIA E SCENEGGIATURA/DIRECTION AND SCRIPT: Toni Bestard
INTERPRETI/CAST: Diego Ingold, Aina Zuazaga, José Torresma
FOTOGRAFIA/CINEMATOGRAPHY: Edu Biurrun
MONTAGGIO/EDITING: Toni Bestard
MUSICHE/MUSIC: Julie Reier
PRODUZIONE/PRODUCED BY: Arturo Ruiz Serrano, Toni Bestard, Marcos Cabotá
FILMOGRAFIA DEL REGISTA/DIRECTOR'S FILMOGRAPHY:
Sólo por un tango (2000), El viaje (2002), Niño vudú (2004), Equipajes (2006), El anónimo Caronte (2007), Intercanvi (2010), El perfecto desconocido (2012), Foley Artist (2013), I am your father (2015), El Sueño Efímero (2017), Talia (2017)
Ruben è un ragazzo anodino attratto dalla bellezza inusuale di Alba, una donna enigmatica. Vivono entrambi in un peculiare universo con regole prestabilite e surreali. Ruben dovrà infrangere alcune di queste regole per attirare l'attenzione di Alba.
Ruben is an anodyne guy attracted by the unusual beauty of Alba, an enigmatic woman. Both live in a peculiar universe, with established and surrealistic rules. Ruben must break some of these rules to get Alba's attention.
BAUTISMO
IL BATTESIMO
BAPTISM
18' 14'' – 2019 Italy

REGIA E SCENEGGIATURA/DIRECTION AND SCRIPT: Mauro Vecchi
INTERPRETI/CAST: Jayson Sami Alvarado, Erika Roldan Garcia, Ibrahim El Sayed, Justin Heredia
MONTAGGIO/EDITING: Marcello Sanna
MUSICHE/MUSIC: Ivan Mosconi, Luca Roncoroni
PRODUZIONE/PRODUCED BY: K48, Play Rough Films
FILMOGRAFIA DEL REGISTA/DIRECTOR'S FILMOGRAPHY:
El nudo (2018)
Roman è un ragazzino sudamericano arrivato a Milano da poco per ricongiungersi con la madre. Nora, una coetanea delle sue stesse origini, gli farà conoscere l'Armada Latina, la più temuta gang sudamericana in città. Unirsi alla banda sembra per lui l'unica via d'uscita dall'anonimato e dalla solitudine, ma per farne parte dovrà prima superare il loro "battesimo".
Roman is a young Latino who recently arrived in Milan to reunite with his mother. Nora, a girl of his age and origins, tells him about the Armada Latina, the most feared Latin gang in the city. Joining the gang feels like the only way out of anonymity and loneliness. However, to become a part of the gang, he will have to survive their "baptism".
CAMILA
14' 56'' – 2018 Mexico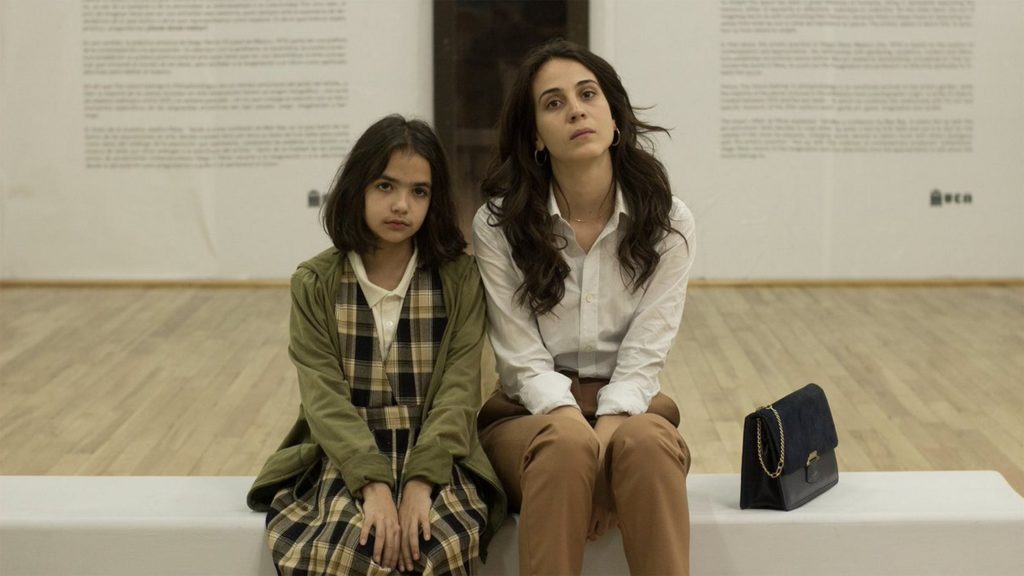 REGIA/DIRECTION: Urzula Barba Hopfner
INTERPRETI/CAST: Montserrat Porcel Yglesias, Cassandra Ciangherotti, Maria Inés Pintado, Pilar Ixquic Mata, Adriana Montes de Oca, Ricardo Esquerra, Ylia Popesku, Urzula Barba Hopfne
FOTOGRAFIA/CINEMATOGRAPHY: Luis Montalvo
MONTAGGIO/EDITING: Miguel Schverdfinger
PRODUZIONE/PRODUCED BY: IMCINE
FILMOGRAFIA DEL REGISTA/DIRECTOR'S FILMOGRAPHY:
The Thing That You Think About (2006), Carmen (2007), Santiago (2008), I want (2017)
Camila ha 12 anni e vive un momento complicato. È una ragazza timida che interagisce raramente con i compagni di classe, ma l'arte è il suo rifugio, specialmente il suo album da disegno. Camila è triste, ma la sua incapacità di spiegare quella tristezza si rivelerà sconvolgente per gli adulti che la circondano.
Camila is 12 years old and going through a complicated moment. She is a shy girl who hardly interacts with her classmates, but art is her refuge, especially her sketchbook. Camila is sad, but her inability to explain that sadness will prove endlessly disconcerting to the adults around her.
CERDITA
PORCELLINA
PIGGY
14' – 2018 Spain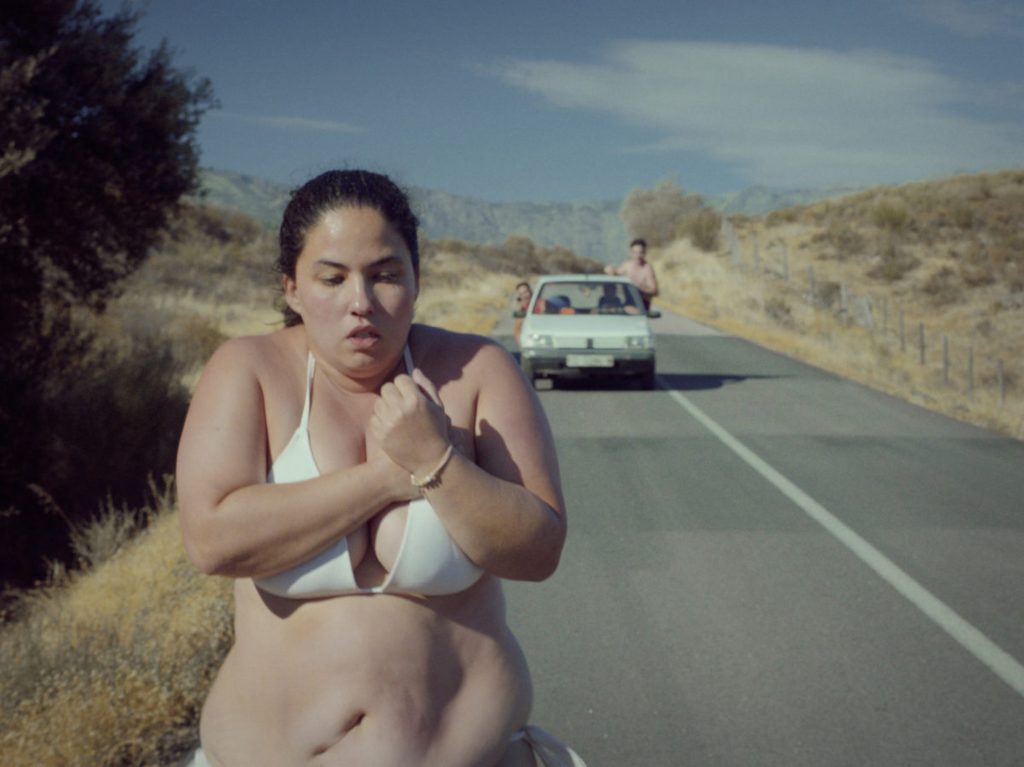 REGIA/DIRECTION: Carlota Pereda
SCENEGGIATURA/SCRIPT: Carlota Pereda
INTERPRETI/CAST: Laura Galán, Paco Hidalgo, Elisabet Casanovas
FOTOGRAFIA/CINEMATOGRAPHY: Rita Noriega
MONTAGGIO/EDITING: David Pelegrín
Sara è un'adolescente sovrappeso che vive nel terrore per gli scherzi di alcune ragazzine in vacanza nel suo paese. Nemmeno Claudia, amica d'infanzia, la difende quando la bullizzano in piscina davanti a uno sconosciuto e le rubano i vestiti. La lunga strada del ritorno segnerà il resto della sua vita.
Sara is an overweight teen that lives in fear of being pranked by a group of girls holidaying in her village. Not even her childhood friend Claudia defends her when she's bullied at the local pool in front of a stranger and her clothes are stolen. The long walk home will mark the rest of her life.
IMAGE IST ALLES
L'IMMAGINE È TUTTO
IMAGE IS EVERYTHING
16' – 2019 Germany – WORLD PREMIÈRE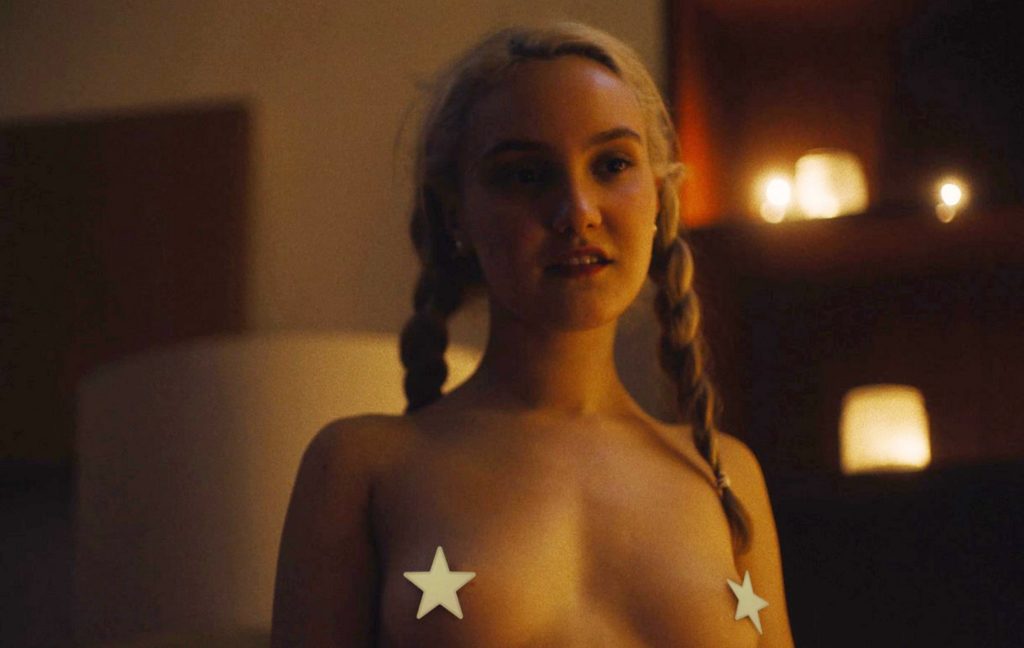 REGIA/DIRECTION: Florian Anders
SCENEGGIATURA/SCRIPT: Florian Anders, Victoria Keller, Sebastian Stolz
INTERPRETI/CAST: Hanna Seelbinder, Paul Schüller
FOTOGRAFIA/CINEMATOGRAPHY: Julian Landweer
MUSICHE/MUSIC: Christian Meyer
PRODUZIONE/PRODUCED BY: Victoria Keller
FILMOGRAFIA DEL REGISTA/DIRECTOR'S FILMOGRAPHY:
Bild Von Ihr (2011), Liebe÷Logik (2017), Die Andere Seite (2018)
Per accrescere la propria reputazione, la sedicenne Lea inscena uno scandalo provocante su un social network. Prima o poi, questo scandalo la metterà a dura prova.
To boost her reputation, 16-year-old Lea stages a provocative scandal on a social network. Sooner or later, this scandal will put her to the test.
IN SCHERBEN
IN FRANTUMI
SHATTERED
13' – 2017 Germany
REGIA E SCENEGGIATURA/DIRECTION AND SCRIPT: Torben Liebrecht
INTERPRETI/CAST: Johannes Zeiler, Christian Hockenbrink, Moritz Führmann, Katja Danowski, Florian Schmidt-Gahlen, Urs Rechn, Livia Matthes Reiter, Rainer Haustein
FOTOGRAFIA/CINEMATOGRAPHY: Jana Lämmerer
MONTAGGIO/EDITING: Max Fey
MUSICHE/MUSIC: Rainer Schaller & René Arbeithuber
PRODUZIONE/PRODUCED BY: lüthje schneider hörl Film Gbr
Un incarico di routine si trasforma in un gesto di autodifesa potenzialmente mortale per l'agente di polizia Kappler. Dopo 30 anni di servizio, deve usare per la prima volta la pistola contro una persona. Mentre i dottori lottano per salvare la vita del colpevole, Kappler si ritrova bloccato in un'inquietante messa in scena che sta per trasformarlo in carnefice contro il suo volere.
A routine duty turns into a life-threatening act of self-defense for police officer Kappler. After 30 years in service, he has to use his gun against a person for the first time. While doctors are fighting for the life of the perpetrator, Kappler finds himself stuck in an eerie staging, which is about to turn him into an executioner again his will.
IN ZEITEN DER TELEPORTATION
L'ERA DEL TELETRASPORTO
THE AGE OF TELEPORTATION
14' 41'' – 2019 Germany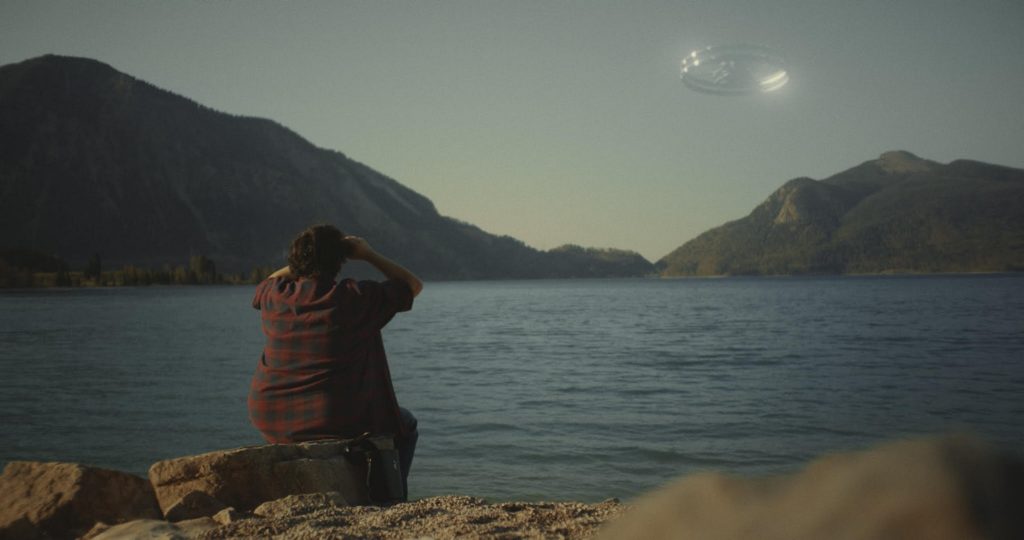 REGIA/DIRECTION: Henning Pulss
SCENEGGIATURA/SCRIPT: Henning Pulss, Philipp Maron
INTERPRETI/CAST: Cem Yeginer, Nina Steils
FOTOGRAFIA/CINEMATOGRAPHY: Franz Kastner
MONTAGGIO/EDITING: Sebastian Riezler
MUSICA ORIGINALE/ORIGINAL SCORE: Nils Wrasse
PRODUZIONE/PRODUCED BY: Maverick Film
Un ragazzo incontra una ragazza nel futuro. Lui sogna la stazione spaziale sopra la terra. Lei ci vive. Una coppia perfetta. Sfortunatamente, il teletrasporto non è così facile.
Boy meets girl in the future. He dreams about the space station above the earth. She lives there. It's a perfect match. Unfortunately, teleportation is not that easy.
INANIMATE
INANIMATO
8' – 2018 Italy
REGIA/DIRECTION: Lucia Bulgheroni
SCENEGGIATURA/SCRIPT: Lucia Bulgheroni, Andrew Eu
INTERPRETI/CAST: Erin Austen, Jay Taylor, Jassa Ahluwalia
FOTOGRAFIA/CINEMATOGRAPHY: Ronnie McQuillan
MONTAGGIO/EDITING: Raphael Pereira
MUSICA ORIGINALE/ORIGINAL SCORE: José D. Pavli
PRODUZIONE/PRODUCED BY: NFTS – National Film and Television School
Katrine ha una vita normale, un lavoro normale, un fidanzato normale e un appartamento normale in una città normale. O almeno è ciò che pensa, finché un giorno tutto inizia ad andare letteralmente a pezzi!
Katrine has a normal life, a normal job, a normal boyfriend and a normal apartment in a normal city. Or at least that's what she thinks, until one day everything starts falling apart – literally!
INDEX
INDICE
10' 35'' – 2019 Spain – ANTEPRIMA ITALIANA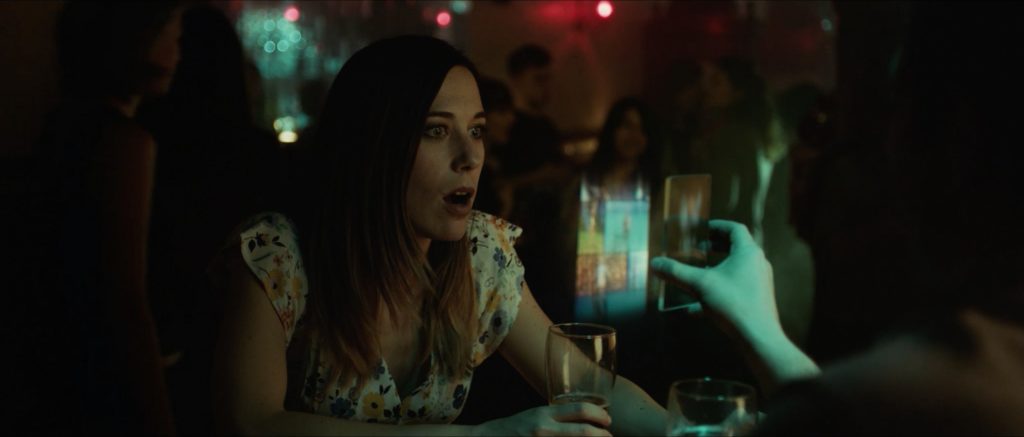 REGIA E SCENEGGIATURA/DIRECTION AND SCRIPT: Daniel Damanti
INTERPRETI/CAST: Adam Quintero, Violeta Orgaz, Benjamin Nathan-Serio, John de Luca, Néstor Navas.
FOTOGRAFIA/CINEMATOGRAPHY: Guille Vazquez
MONTAGGIO/EDITING: Daniel Damanti
MUSICHE/MUSIC: Gabriel Fernández
PRODUZIONE/PRODUCED BY: Trampoline Producciones, SL
FILMOGRAFIA DEL REGISTA/DIRECTOR'S FILMOGRAPHY:
Desde el Parnaso (2019)
Il rapporto di una giovane coppia, apparentemente perfetta e felice, viene messo in discussione dall'incontro con due estranei che li aggrediscono fisicamente e psicologicamente, mettendoli l'uno contro l'altra.
A seemingly perfect and happy young couple sees the relationship challenged by the encounter with two strangers whom, after having harassed them physically and psychologically, turn them against each other.
IPDENTICAL
PIDENTICO
10' – 2018 Spain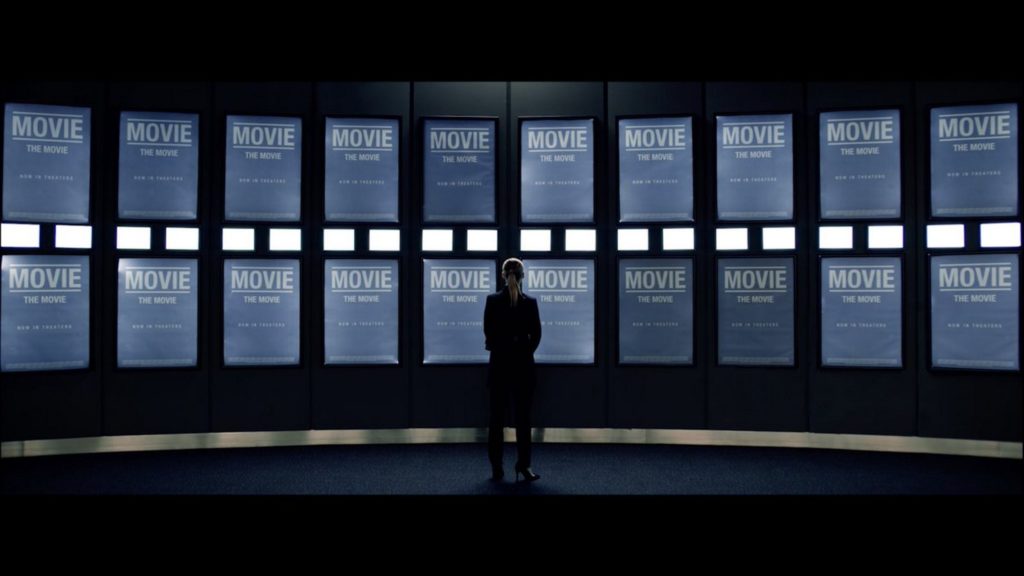 REGIA E SCENEGGIATURA/DIRECTION AND SCRIPT: Marco Huertas
INTERPRETI/CAST: Manuela Vellés, William Miller, Claudia Tovar
FOTOGRAFIA/CINEMATOGRAPHY: Ismael Issa
MONTAGGIO/EDITING: Juan Eduardo Peso
MUSICHE/MUSIC: Carlos Salado
PRODUZIONE/PRODUCED BY: Rubén Ferrández, Miguel Quintanilla
FILMOGRAFIA DEL REGISTA/DIRECTOR'S FILMOGRAPHY:
Trópico by Malva-Rosa (2016), 56 (2016), Cola-Limón (2017), Parka Labs (1 episode, 2018), Alaska (2018)
Anna vive in una distopia senza proprietà intellettuale: non ci sono marche, R & S, o alcuna creatività in arte e cultura. Stanca della realtà che la circonda, Anna si mette alla ricerca dell'unica canzone originale che ricorda.
Anna lives in a dystopia where there is no intellectual property: there are no brands, R & D, or creativity in art and culture. Tired of the reality that surrounds her, Anna begins the search for the only original song she remembers.
JE SORS ACHETER DES CIGARETTES
ESCO A COMPRARE LE SIGARETTE
I'M GOING OUT FOR CIGARETTES
13' 35'' – 2018 France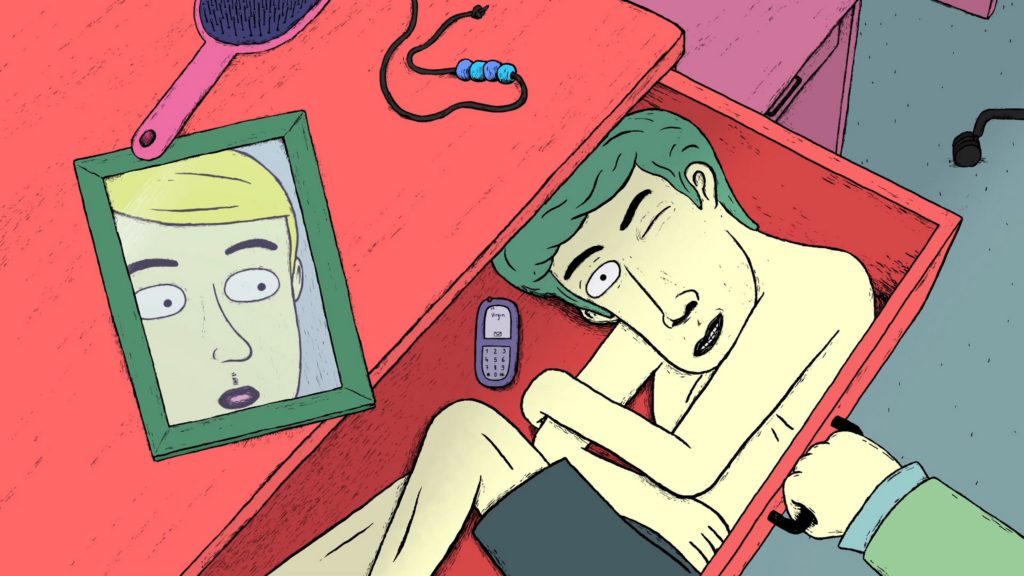 REGIA E SCENEGGIATURA/DIRECTION AND SCRIPT: Osman Cerfon
INTERPRETI/CAST: Théan Van de Voorde, Manon Bresch, Delphine Rollin, Valentin Gevraise
PRODUZIONE/PRODUCED BY: Miyu Distribution
FILMOGRAFIA DEL REGISTA/DIRECTOR'S FILMOGRAPHY:
Tête-à-tête (2007), Chroniques de la poisse (Pas de peau pour l'ours) (2010), Chroniques de la poisse (Comme des lapins) (2012), La Vie de château (2019)
Jonathan, dodici anni, vive con la sorella, la madre e anche con degli uomini. Hanno tutti la stessa faccia e si nascondono negli armadi, nei cassetti e nel televisore…
Jonathan, twelve years old, lives with his sister, his mother, and also some men. They all have the same face, and nest in closets, drawers, TV set…
KIPPA
KIPPAH
25' – 2019 Germany
REGIA E SCENEGGIATURA/DIRECTION AND SCRIPT: Lukas Nathrath
INTERPRETI/CAST: Samy Abdel Fattah, Riccardo Campione, Dominik Ganser, Susann Uplegger, Frank Auerbach, Takeshi Matsuyama, Zoran Pingel, Maggie Valentina Salomon, Wiebke Wackermann, Gustav Peter Wöhler, Niklas Marc Heinecke, Junis Marlon, Antje Otterson, Carolin Spiess
FOTOGRAFIA/CINEMATOGRAPHY: Leonard Lokai
MONTAGGIO/EDITING: Silke Olthoff
MUSICHE/MUSIC: Tim Schwerdter
PRODUZIONE/PRODUCED BY: Hamburg Media School
Oskar ha 15 anni ed è popolare nella sua nuova scuola. Tuttavia, quando i suoi compagni scoprono che è ebreo, viene minacciato e brutalmente bullizzato. Mentre il preside ignora le suppliche dei genitori, Oskar deve trovare un modo per far fronte alle umiliazioni.
15-year-old Oskar is popular at his new school, but after his classmates find out that he is Jewish, he is threatened and bullied brutally. While the headmaster ignores his parents' pleas, Oskar has to find a way to cope with the humiliations.
LAISSEZ MOI DANSER
LASCIATEMI BALLARE
LET ME DANCE
17' – 2017 France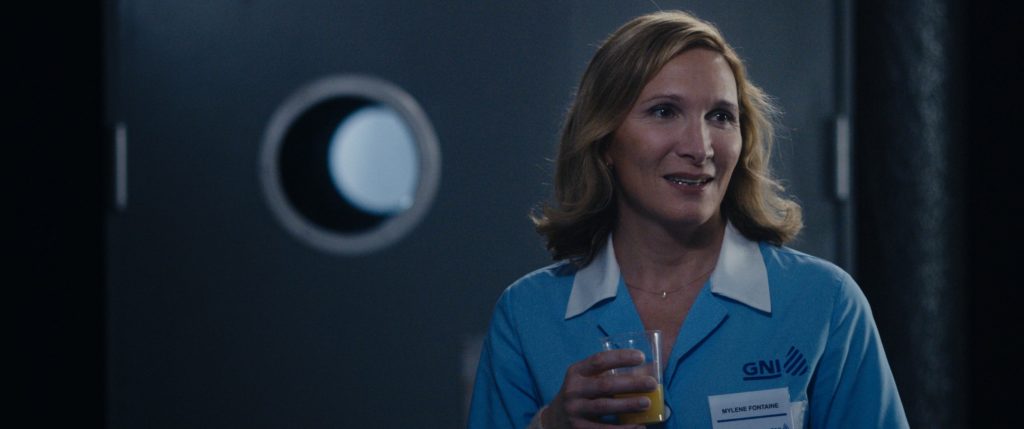 REGIA E SCENEGGIATURA/DIRECTION AND SCRIPT: Valérie Leroy
INTERPRETI/CAST: Agathe Rubinstein, Marion Bezemer, Morgane Cabot, Eminé Meyrem, Rebecca Finet, Camille Le Gall, Pierre Zéni
FOTOGRAFIA/CINEMATOGRAPHY: Thomas Walser
MONTAGGIO/EDITING: Lola Butstraen
MUSICHE/MUSIC: Clément Doumic
PRODUZIONE/PRODUCED BY: offshore
FILMOGRAFIA DEL REGISTA/DIRECTOR'S FILMOGRAPHY:
Looking for Simon (2011), Wilson (2015), Le grand bain (2016)
Mylène lavora come donna delle pulizie su un traghetto. Le sue colleghe hanno organizzato una festa a sorpresa per il suo compleanno ma, sul regalo, Mylène legge il suo vecchio nome, un nome che non vuole più vedere. Chi la sta ricattando? Mylène dovrà indagare…
Mylène works as a cleaning lady on a ferry boat. Her colleagues have organized a surprise party for her birthday, but on the gift voucher Mylène reads her old name, a name she no longer wants to see. Who is blackmailing her? Mylène will have to investigate…
LE GRAFFITI
IL GRAFFITO
THE GRAFFITI
9' 30'' – 2019 France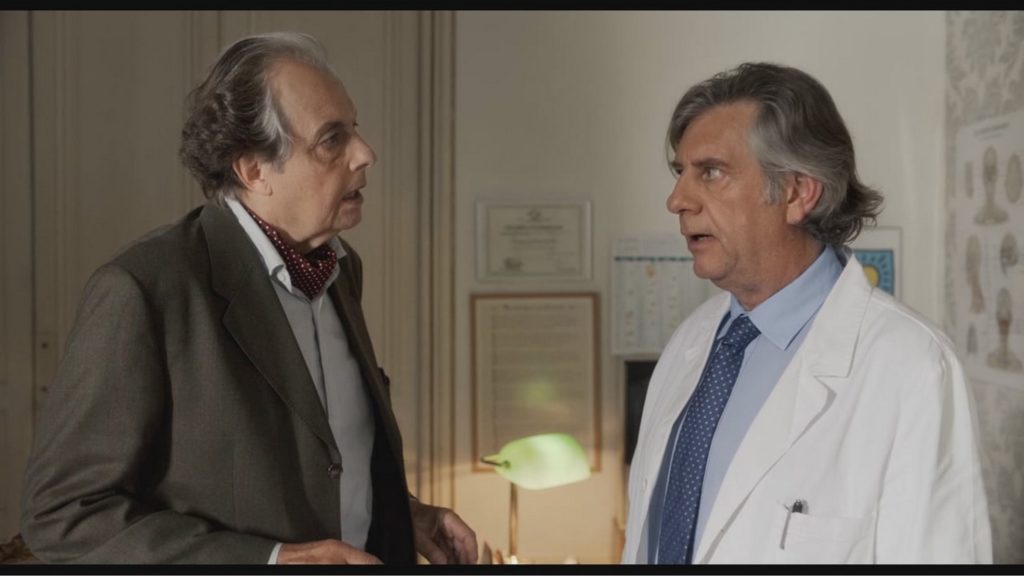 REGIA E SCENEGGIATURA/DIRECTION AND SCRIPT: Aurélien Laplace
INTERPRETI/CAST: François Berland, Christian Bujeau
FOTOGRAFIA/CINEMATOGRAPHY: Quentin Jorquera
MONTAGGIO/EDITING: Lionel Delebarre
MUSICA ORIGINALE/ORIGINAL SCORE: Seldom Colin
PRODUZIONE/PRODUCED BY: Fastprod
FILMOGRAFIA DEL REGISTA/DIRECTOR'S FILMOGRAPHY:
Il primo passo (2014), Una stretta di mano storica (2016)
Stupore in città: è apparso un graffito sulla facciata di un edificio storico! I principali interessati, il Sindaco e il Dottor Robin, dovranno dare spiegazioni…
The city's in shock: this morning a graffiti appeared on the wall of a historical monument! The people involved, the Mayor and Dr. Robin, will have to explain themselves…
LOVE HE SAID
AMORE, DISSE
5' 40'' – 2018 France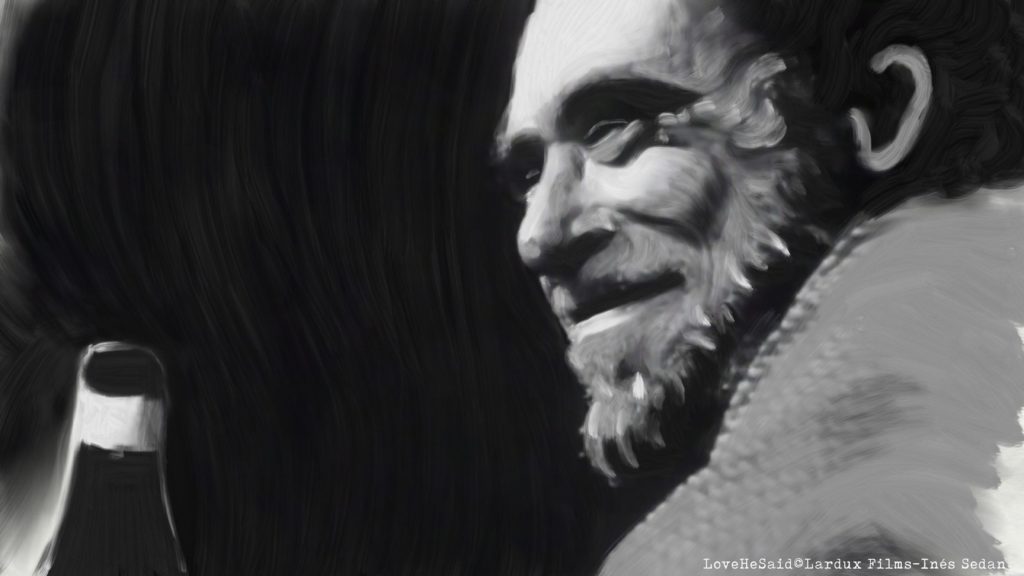 REGIA E SCENEGGIATURA/DIRECTION AND SCRIPT: Ines Sedan
MONTAGGIO/EDITING: Michele Le Guernevel
MUSICA ORIGINALE/ORIGINAL SCORE: Julien Divisia
PRODUZIONE/PRODUCED BY: Lardux Films
FILMOGRAFIA DEL REGISTA/DIRECTOR'S FILMOGRAPHY:
The Man who Slept (2009), Me (2012), El Canto (2013)

San Francisco, 1973. Charles Bukowski, precursore della poesia underground e del punk, legge la sua poesia Amore ad un pubblico scatenato che è venuto ad ascoltare le provocazioni della sua poesia spazzatura. Quel giorno però, invece del punk, trovano un uomo distrutto e desideroso d'amore.
1973, San Francisco. Charles Bukowski, underground poet and punk ahead of his time, reads his poem Love in front of a wild audience who has come to listen to the trash poet's provocations. But on that day, instead of the punk, they find a broken man hungry for love.
MAR
SEA
3' – 2019 Spain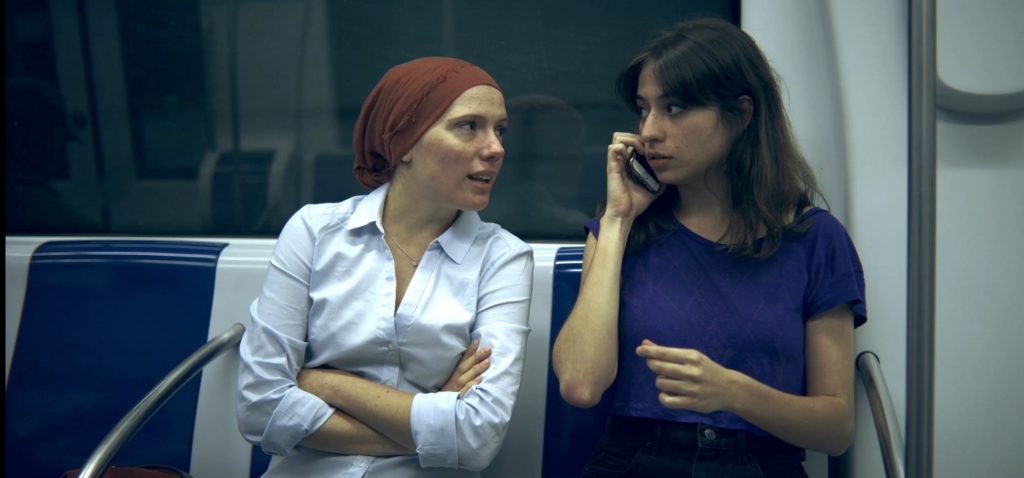 REGIA/DIRECTION: Fèlix Colomer
SCENEGGIATURA/SCRIPT: Fèlix Colomer
INTERPRETI/CAST: Paula Jornet, Diana Gómez
FOTOGRAFIA/CINEMATOGRAPHY: Lluís Domingo
MONTAGGIO/EDITING: Fèlix Colomer
MUSICHE/MUSIC: Jordi Rossinyol, André Nascimbeni
PRODUZIONE/PRODUCED BY: Forest Film Studio
FILMOGRAFIA DEL REGISTA/DIRECTOR'S FILMOGRAPHY:
The Numbers (2015), Peret i l'origen de la rumba catalana (2016), Sasha (2016), Shootball (2017)
Mentre è nella metro, Paula partecipa a un concorso radiofonico. Con l'aiuto di una sconosciuta, proverà a vincere il premio di 1000 euro. Bastano tre minuti per cambiarti la vita, e per cambiare quella degli altri.
While in the subway, Paula takes part in a radio contest to win 1,000 euros. With the help of a stranger, she'll try to take the prize. Three minutes are all it takes to change your life, and to change other people's.
MARIA JA 7 PÖIALPOISSI
MARIA E I 7 NANI
MARY AND THE 7 DWARFS
12' 30'' – 2018 Estonia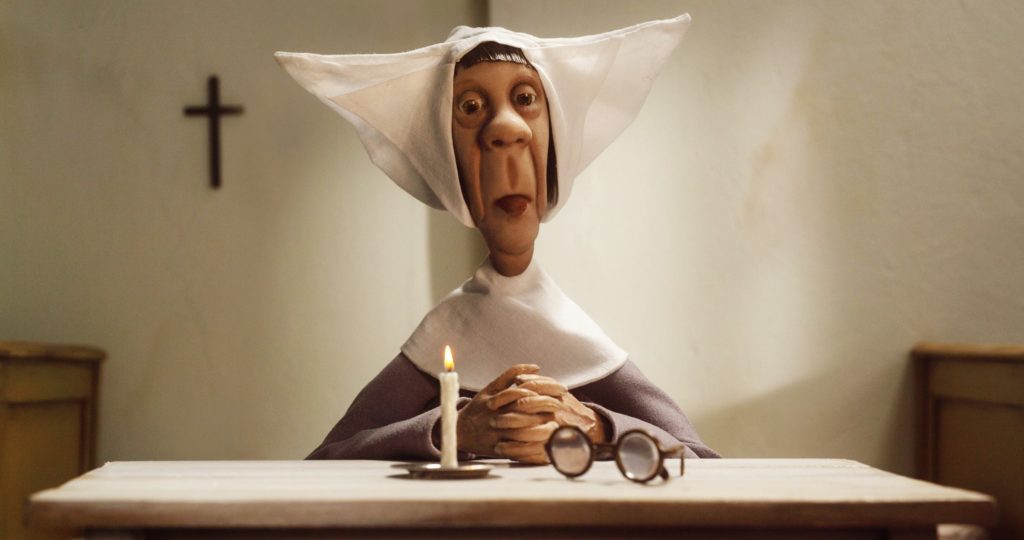 REGIA E SCENEGGIATURA/DIRECTION AND SCRIPT: Riho Unt
FOTOGRAFIA/CINEMATOGRAPHY: Sergei Kibus
MONTAGGIO/EDITING: Riho Unt
MUSICHE/MUSIC: Sir Anthony Hopkins
PRODUZIONE/PRODUCED BY: OÜ Nukufilm
FILMOGRAFIA DEL REGISTA/DIRECTOR'S FILMOGRAPHY:
Lammas all, paremas nurgas (1992), Hilinenud Romanss (1994), Tagasi Euroopasse (1997), Saamuel Internetis (1999), Hing sees (2001), Pingviinide paraad (2002), Vennad karusüdamed (2005), Miriami pesakast (2006), Põhja Konn (2007), Lili (2008), Happy Birthday (2012), Miriam's Kite (2013), The Master (2015), Miriam by the Lake (2017)
Dopo aver trascorso la vita dietro le mura di un convento, l'anziana e dignitosa suora Maria decide di realizzare il suo sogno d'infanzia. L'unico ostacolo sul suo cammino è la frammentaria e quasi inesistente memoria. Maria ha paura che il suo sogno più grande si riveli essere un peccato.
Having spent her entire life behind the walls of a convent, old and dignified nun Maria decides to fulfill her childhood dream. The only obstacle on her path is her fragmented, almost non-existent memory. Maria is afraid that her ultimate dream may turn out to be a sin instead.
MEMORIE DI ALBA
ALBA'S MEMORIES
6' 20'' – 2019 Italy, Germany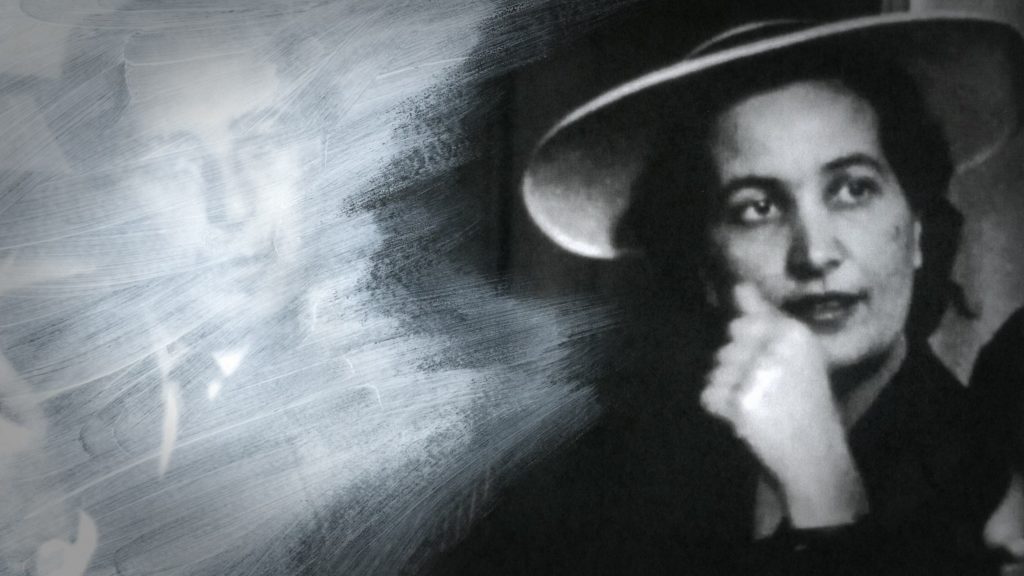 REGIA E SCENEGGIATURA/DIRECTION AND SCRIPT: Maria Steinmetz, Andrea Martignoni
MONTAGGIO/EDITING: Maria Steinmetz
MUSICA ORIGINALE/ORIGINAL SCORE: Andrea Martignoni
PRODUZIONE/PRODUCED BY: Andrea Martignoni
FILMOGRAFIA DEL REGISTA/DIRECTOR'S FILMOGRAPHY:
Coma (2009), Changeling (2011), Macramé (2014), The Mosquito Pieks 2017)
Alba racconta come si innamorò di Pierino, amico di suo fratello, nell'Italia dei primi anni '50.
Alba tells the story of how she fell in love with her brother's friend Pierino in the early fifties in Italy.
METAMORPHOSIS
METAMORFOSI
10' 35'' – 2019 France, Spain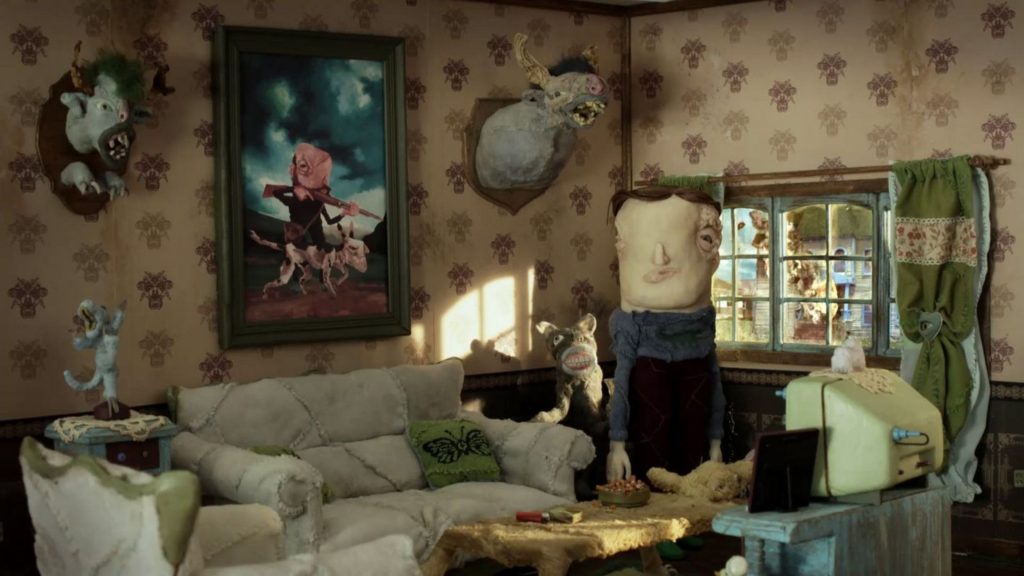 REGIA E SCENEGGIATURA/DIRECTION AND SCRIPT: Juanfran Jacinto, Carla Pereira
MONTAGGIO/EDITING: María José Fuentes
MUSICA ORIGINALE/ORIGINAL SCORE: Albert Mejías
PRODUZIONE/PRODUCED BY: Autour de Minuit (Nicolas Schmerkin) / Ramon Alos (Bigaro Films)
Un uomo sulla trentina che vive ancora con la madre decide di liberarsi dai suoi demoni interiori.
In his thirties and still living with his mother, a man decides to break free from his inner demons.
MIN BÖRDA
IL FARDELLO
THE BURDEN
14' 10'' – 2017 Sweden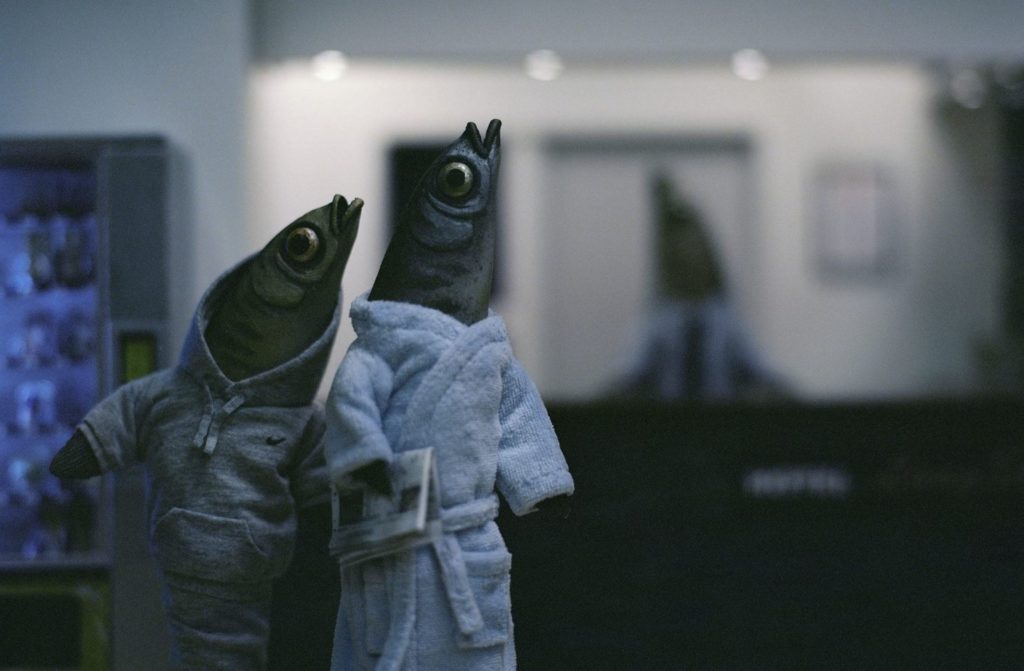 REGIA E SCENEGGIATURA/DIRECTION AND SCRIPT: Niki Lindroth von Bahr
INTERPRETI/CAST: Olof Wretling, Mattias Fransson, Carl Englén, Sven Björklund (voices)
MUSICHE/MUSIC: Hans Appelqvist
PRODUZIONE/PRODUCED BY: Kalle Wettre
Un musical dai temi dark va in scena in un supermercato moderno. Gli impiegati dei vari reparti, rappresentati come animali, affrontano la noia e l'ansia esistenziale esibendosi in allegre piroette da musical. L'apocalisse è un'allettante liberatrice.
A dark musical is enacted in a modern market place. The employees of various departments – portrayed as animals – deal with boredom and existential anxiety by performing cheerful musical turns. The apocalypse is a tempting liberator.
NEVOEIRO
NEBBIA
FOG
15' – 2018 Portugal – ANTEPRIMA ITALIANA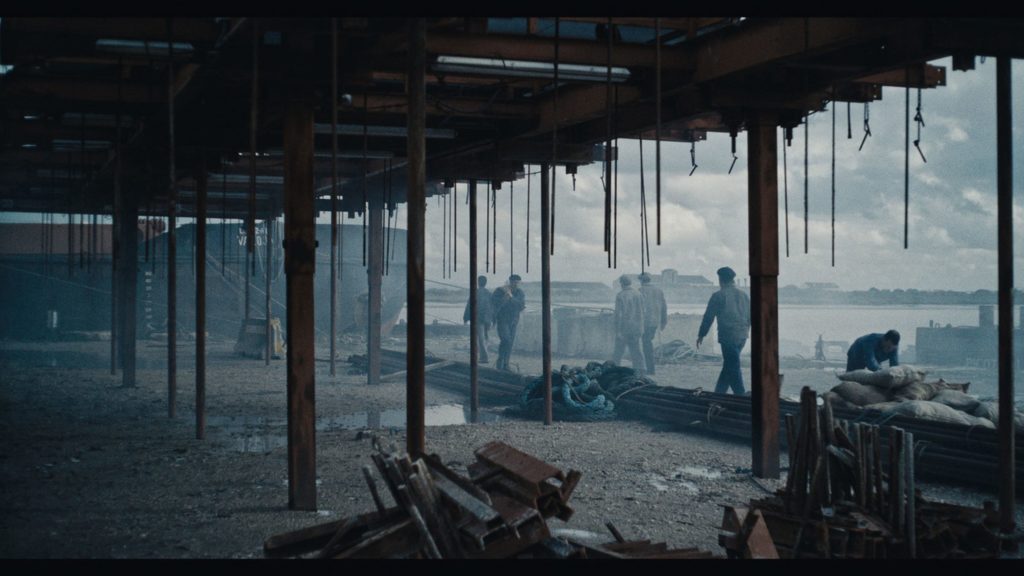 REGIA/DIRECTION: Daniel Veloso
SCENEGGIATURA/SCRIPT: Daniel Veloso, Inês Oliveira
INTERPRETI/CAST: João Patrício, Sofia Marques, John Jesus Romão
FOTOGRAFIA/CINEMATOGRAPHY: Paulo Menezes
MONTAGGIO/EDITING: Tomás Paula Marques
PRODUZIONE/PRODUCED BY: Terratreme Filmes
FILMOGRAFIA DEL REGISTA/DIRECTOR'S FILMOGRAPHY:
Damaia dj'acaba ma inda nu sta pa li (2016)
Lisbona, 1943. Il governo di Salazar ordina la partenza di treni carichi di beni primari per la Germania nazista e nel paese istituisce il razionamento dei beni. In Portogallo, migliaia di lavoratori stanno protestando contro i salari da fame. Paulo e Luísa, attivisti antifascisti, stanno preparando in segreto uno sciopero al porto.
Lisbon, 1943. While ordering the departure of trains loaded with essential products towards Nazi Germany, Salazar's government establishes the rationing of goods. In Portugal, thousands of workers are protesting against 'hunger wages'. Paulo and Luísa, antifascist resisters, are preparing to secretly organize a strike at the dock.
NOMOFOBIA
15' – 2018 Italy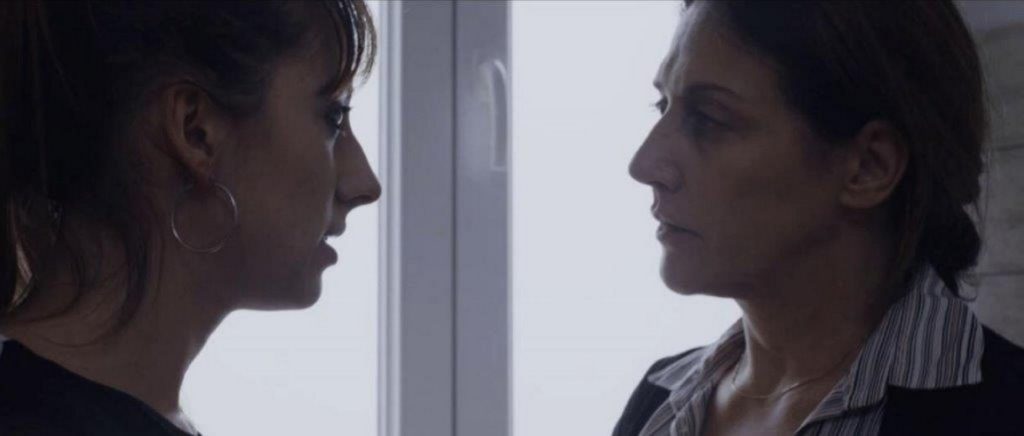 REGIA/DIRECTION: Ado Hasanovic
SCENEGGIATURA/SCRIPT: Elisa Bondavalli
INTERPRETI/CAST: Tiziana Bagatella, Lisa Granuzza Di Vita
FOTOGRAFIA/CINEMATOGRAPHY: Juri Fantigrossi
MONTAGGIO/EDITING: Ado Hasanovic
MUSICHE/MUSIC: Boris Riccardo D'Agostino
PRODUZIONE/PRODUCED BY: Admon Film
FILMOGRAFIA DEL REGISTA/DIRECTOR'S FILMOGRAPHY:
Blue Viking in Sarajevo (2012), Pink Elephant (2017), Rock my trumpet (2017)
Un pomeriggio come tanti altri nella provincia toscana viene stravolto nel momento in cui una madre sequestra il cellulare alla figlia diciassettenne a causa dei suoi cattivi risultati scolastici.
An afternoon like many others in the provinces of Tuscany, central Italy, has an unexpected twist when a mother decides to confiscate her teenager daughter's telephone.
NOVEMBER 1ST
1° NOVEMBRE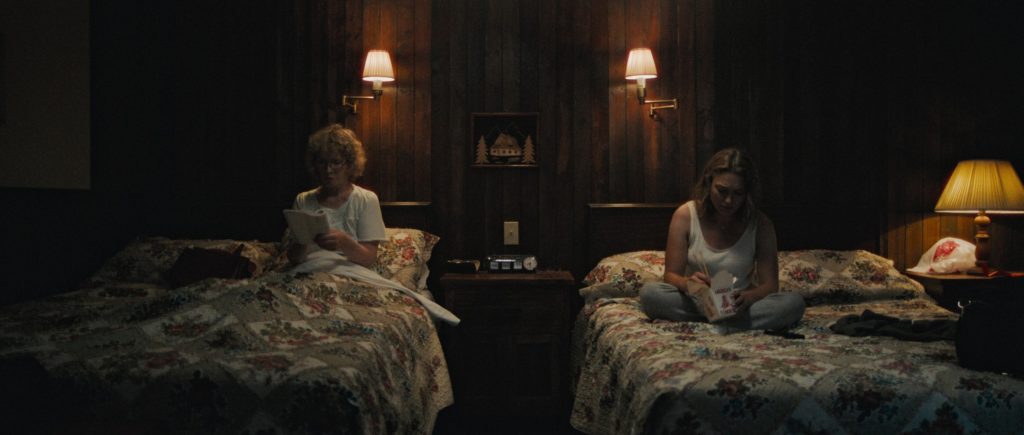 24' 40'' – 2019 UK – VINCITORE STUDENT ACADEMY AWARD
REGIA E SCENEGGIATURA/DIRECTION AND SCRIPT: Charlie Manton
INTERPRETI/CAST: Lindsay Duncan, Sophia Myles
FOTOGRAFIA/CINEMATOGRAPHY: Molly Manning Walker
MONTAGGIO/EDITING: Celina Øier
MUSICA ORIGINALE/ORIGINAL SCORE: Thomas Ross Fitzsimmons
PRODUZIONE/PRODUCED BY: Teodora Shaleva
FILMOGRAFIA DEL REGISTA/DIRECTOR'S FILMOGRAPHY:
Second Skin (2016), Tell Me (2017), My Mother (2018)
Madre e figlia attraversano tutto lo Stato per assistere a un'esecuzione che attendono da molto tempo.
Mother and daughter travel across the state to witness a long-overdue execution.
PARRU PI TÌA
PARLO PER TE
IN YOUR PLACE
14' 39'' – 2018 Italy
REGIA/DIRECTION: Giuseppe Carleo
SCENEGGIATURA/SCRIPT: Giuseppe Carleo, Riccardo Cannella
INTERPRETI/CAST: Miriam Dalmazio, Clara Salvo, Alessandra Pizzullo, Salvo Piparo, Giulio Corso, Claudio Collovà, Domenico Lambetti, Francesco Caracausi
FOTOGRAFIA/CINEMATOGRAPHY: Martina Cocco
MONTAGGIO/EDITING: Riccardo Cannella
MUSICHE/MUSIC: Gianluca Porcu
PRODUZIONE/PRODUCED BY: El Deseo S.r.l. – Insolita Film
FILMOGRAFIA DEL REGISTA/DIRECTOR'S FILMOGRAPHY:
Un giardino che rideva (2010), Picchì chi è (2013), Officium (2014)
Annachiara vive nella periferia di Palermo con la sua famiglia. Sta aspettando di rivedere il suo ex fidanzato per l'ultima volta. Cerca invano di riconquistarlo, ma la nonna le suggerisce un rito antico che potrebbe salvare le sorti di questo amore andato in frantumi.
Annachiara lives in the suburbs of Palermo with her family. She's waiting to see her ex-boyfriend one last time. She tries in vain to win him back, but then her grandma suggests an ancient ritual that could save the fate of her love gone to pieces.
PER TUTTA LA VITA
FOR LIFE
5' 19'' – 2018 Italy, France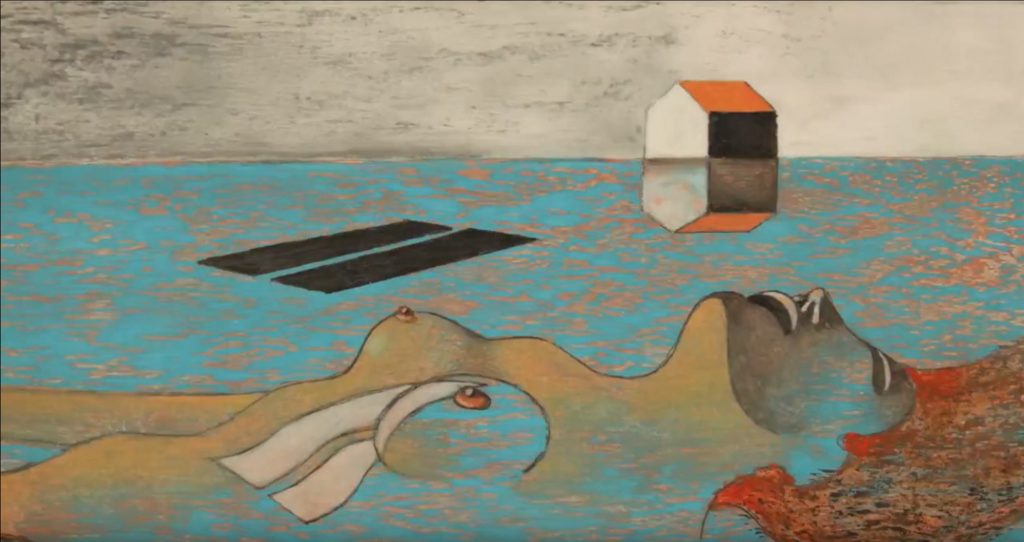 REGIA E SCENEGGIATURA/DIRECTION AND SCRIPT: Roberto Catani
MUSICHE/MUSIC: Andrea Martignoni
PRODUZIONE/PRODUCED BY: Withstand MIYU Production
FILMOGRAFIA DEL REGISTA/DIRECTOR'S FILMOGRAPHY:
Il pesce rosso (1995), La sagra (1999), The Tightrope Walker (2002), Absent Minded (2013)
Attraverso un viaggio a ritroso nella memoria, una donna e un uomo ripercorrono i momenti più importanti della loro storia d'amore. Dall'inverno del loro amore risalgono, in un vortice di ricordi, all'estate della passione e alla piccola magia da cui tutto ha avuto inizio.
A woman and a man take a stroll down memory lane to recall the most important moments of their love story. From the winter of their love, they are swept up into a whirlwind of memories, back to the summer of their passion and to the small magic from which everything began.
RAPPELLE MOI
RICORDAMI
REMIND ME
7' – 2018 France – ANTEPRIMA ITALIANA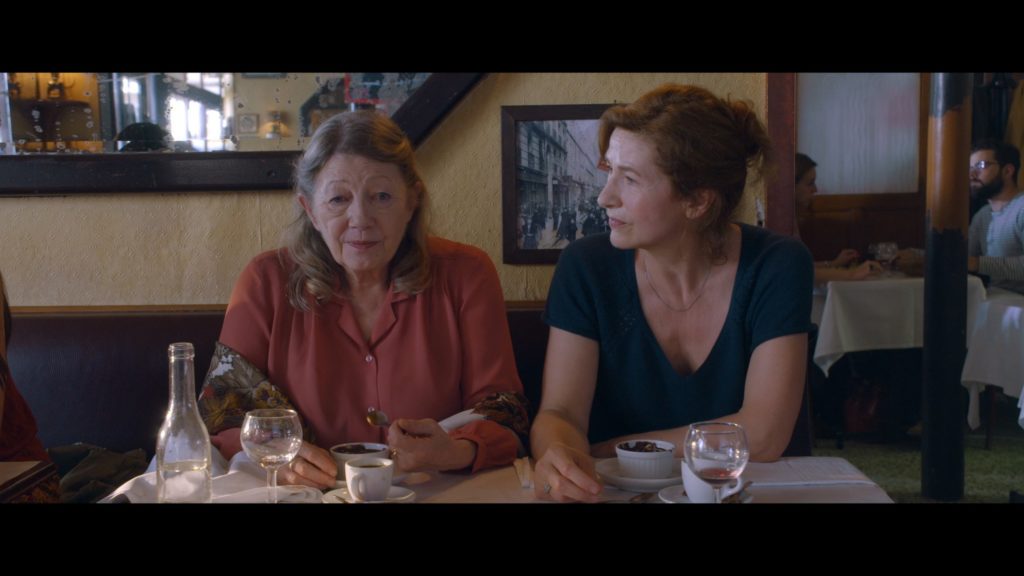 REGIA E SCENEGGIATURA/DIRECTION AND SCRIPT: Marie-Hélène Copti
INTERPRETI/CAST: Françoise Lebrun, Marie Bunel, Luc Matard
FOTOGRAFIA/CINEMATOGRAPHY: Stéphane Cami
MONTAGGIO/EDITING: Coline Léauté
MUSICHE/MUSIC: Benjamin Jaussaud
PRODUZIONE/PRODUCED BY: Haiku films
FILMOGRAFIA DEL REGISTA/DIRECTOR'S FILMOGRAPHY:
Couture (2003), Jack and Jacques (2006)
Come tutte le domeniche, Solange ha una conversazione a senso unico con l'anziana madre. Improvvisamente, la madre interrompe Solange con una domanda inaspettata, prendendola alla sprovvista.
Like every other Sunday, Solange is having a one way conversation with her aging mother. Suddenly, the mother interrupts Solange with an unexpected question, catching her off guard.
ROBARTE UNA NOCHE
RUBARTI UNA NOTTE
STEAL YOU ONE NIGHT
14' – 2018 Spain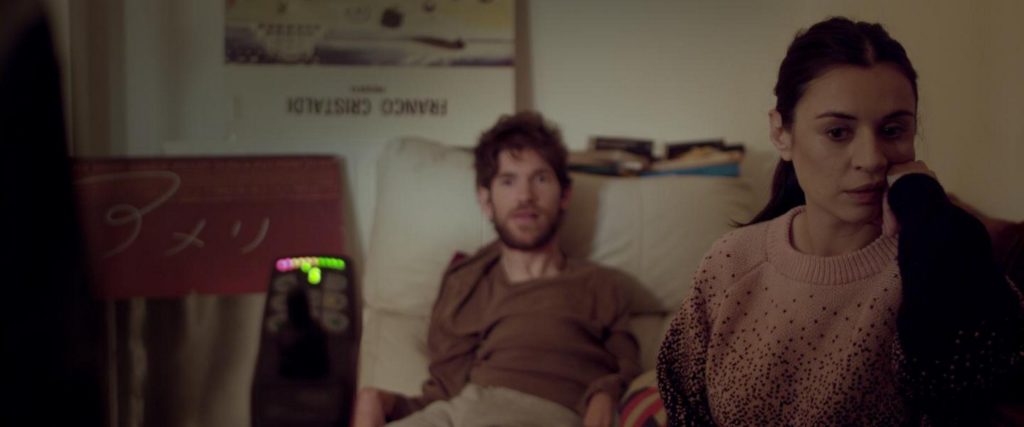 REGIA E SCENEGGIATURA/DIRECTION AND SCRIPT: Fernando Vera Moreno
INTERPRETI/CAST: Miren Ibarguren, Telmo Irureta, Josean Bengoetxea
FOTOGRAFIA/CINEMATOGRAPHY: José Carlos Ruiz Cantarero
MONTAGGIO/EDITING: Javi Alonso
PRODUZIONE/PRODUCED BY: Amenic
FILMOGRAFIA DEL REGISTA/DIRECTOR'S FILMOGRAPHY:
Behind India, A Look Through Their Social Movements (2018)
Ana è esperta di serrature e Teo non vede l'ora che la sua venga forzata. L'incontro notturno tra i due estranei termina in un ballo inaspettato.
Ana is good with locks, and Teo is looking forward to someone breaking into his house. An encounter between strangers one night ends in an unexpected dance.
SAMSA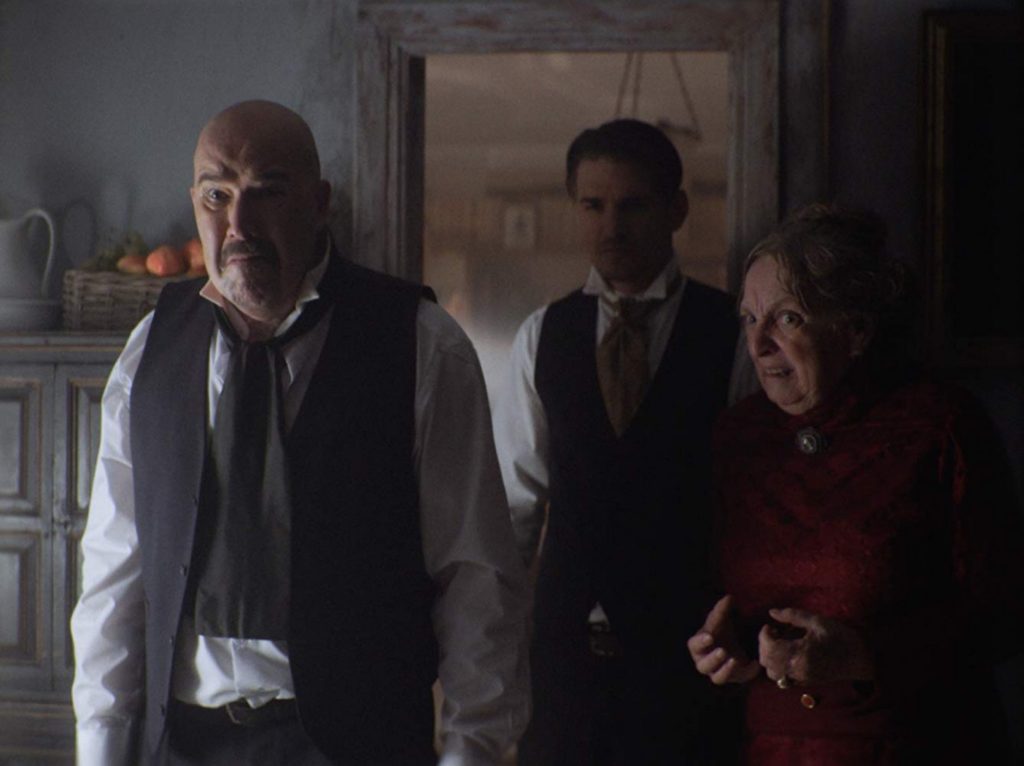 11' – 2019 Spain – ANTEPRIMA ITALIANA
REGIA/DIRECTION: Enrique García
SCENEGGIATURA/SCRIPT: Enrique García, inspired by The Metamorphosis by Franz Kafka
INTERPRETI/CAST: James Nield, Virginia DeMorata, Stefan Turlock, Alberto González, Susan Kimberley, Steven Lance.
PRODUZIONE/PRODUCED BY: MARILA FILMS
FILMOGRAFIA DEL REGISTA/DIRECTOR'S FILMOGRAPHY:
Objetivo Violeta (2013), Napoleón (2013), 321 días en Michigan (2014), Resort Paraíso (2017), Maniac Tales (2017), La muerte en un bolsillo (2019)
Dopo aver discusso con la famiglia, Gregor Samsa va a dormire. Il giorno seguente si risveglia trasformato in un enorme insetto. La sua relazione con la famiglia e con il mondo cambieranno completamente nei tre giorni della sua metamorfosi.
After discussing with his family, Gregor Samsa goes to sleep. The next day he wakes up transformed into a huge insect. His relationship with his family and with the world will change completely during the three days of his metamorphosis.
SELFIES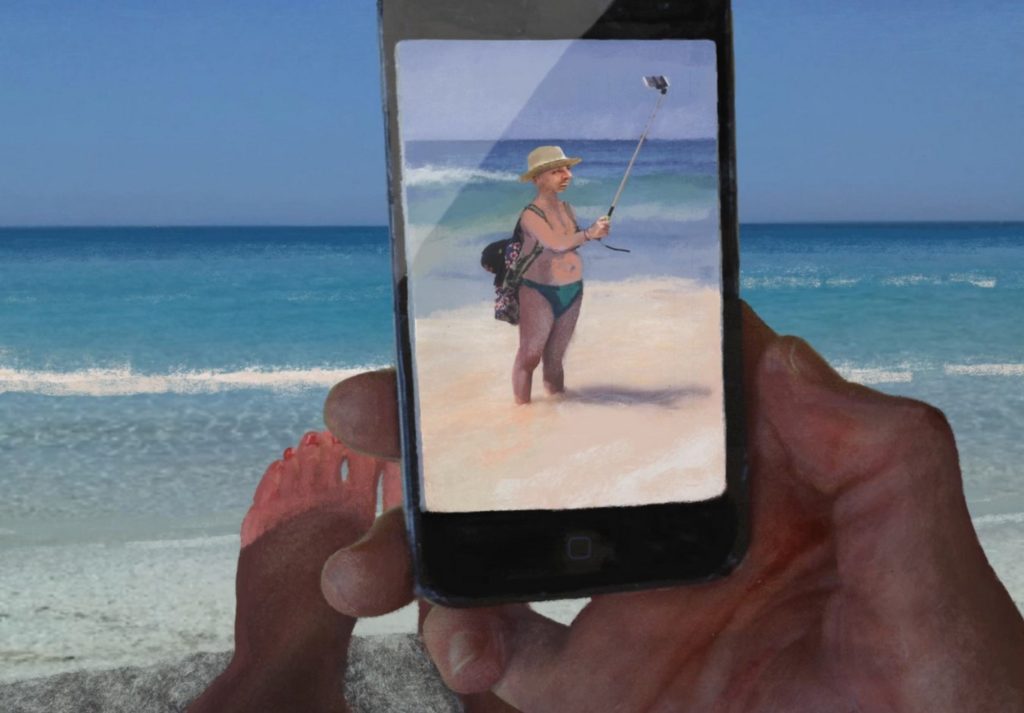 4' – 2018 Switzerland
REGIA E SCENEGGIATURA/DIRECTION AND SCRIPT: Claudius Gentinetta
MUSICHE/MUSIC: Peter Bräker, Lap Steel, Claude Kaiser
PRODUZIONE/PRODUCED BY: Gentinettafilm and Schweizer Radio
FILMOGRAFIA DEL REGISTA/DIRECTOR'S FILMOGRAPHY:
Amok (1997), Poldek (2004), Die Seilbahn/the Cable Car (2008), Schlaf/Sleep (2010), Islander'rest (2015)
In un autentico spettacolo pirotecnico di autoritratti digitali, centinaia di selfie pittoreschi, imbarazzanti e tremendamente inquietanti sono stati arrangiati in un singolare cortometraggio. Le foto singole, rielaborate artisticamente, formano una terribile smorfia che cela l'abisso dell'esistenza umana.
In a veritable firework display of digital self-portraits, hundreds of quaint, embarrassing and dreadfully disturbing selfies have been arranged in a unique short film composition. Single photos, artistically reworked, consolidate to form a ghastly grin that outshines the abyss of human existence.
SERVICE D'ÉTAGE
SERVIZIO IN CAMERA
ROOM SERVICE
8' – 2019 France – ANTEPRIMA ITALIANA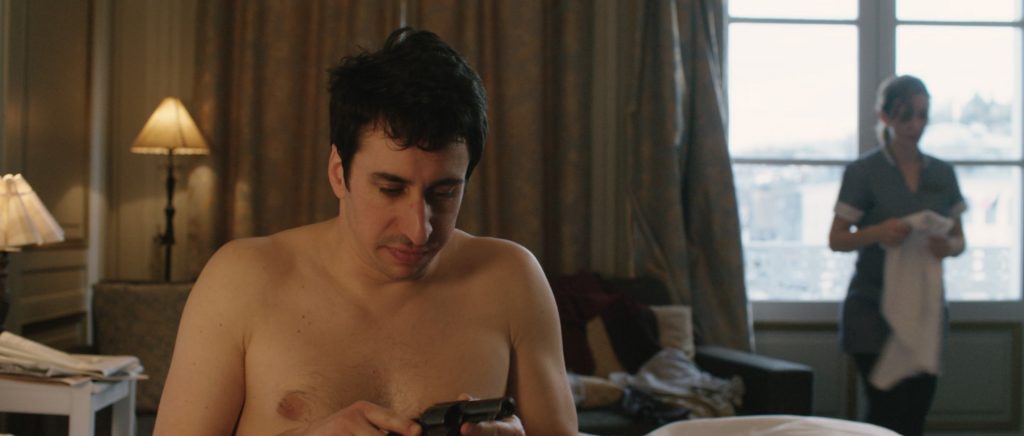 REGIA E SCENEGGIATURA/DIRECTION AND SCRIPT: Arthur Jeanroy
INTERPRETI/CAST: Emmanuel Bloch, Mélanie Peyre, Sabine Beaufils
FOTOGRAFIA/CINEMATOGRAPHY: Arthur Briet
MONTAGGIO/EDITING: Arthur Jeanroy
PRODUZIONE/PRODUCED BY: Ante Bellum Films
FILMOGRAFIA DEL REGISTA/DIRECTOR'S FILMOGRAPHY:
The Viewers (2013)
Mentre Albert cerca di suicidarsi, una donna di servizio, impaziente di finire il suo turno, entra nella sua camera d'albergo.
Albert is still trying to find the courage to commit suicide when a maid, eager to finish her shift, enters his hotel room.
SI SOSPETTA IL MOVENTE PASSIONALE CON L'AGGRAVANTE DEI FUTILI MOTIVI
UNDER SUSPICION FOR A CRIME OF PASSION AGGRAVATED BY TRIVIALITY
16' – 2019 Italy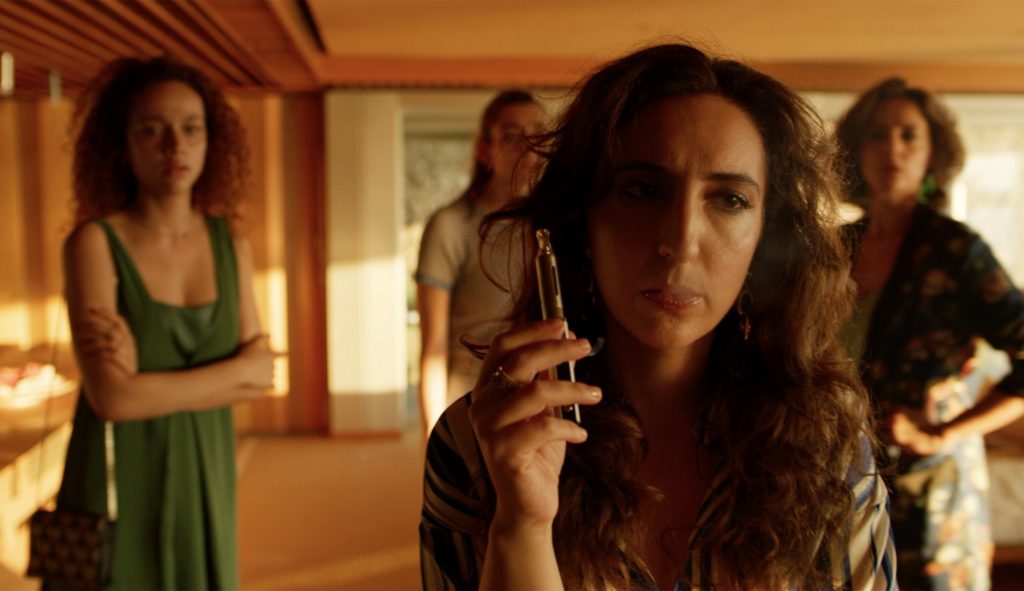 REGIA/DIRECTION: Cosimo Alemà
SCENEGGIATURA/SCRIPT: Cosimo Alemà, Armando Maria Trotta
INTERPRETI/CAST: Irene Ferri, Anna Ferraioli Ravel, Pilar Fogliati, Nina Fotaras, Marco Giuliani, Marco Giallini
FOTOGRAFIA/CINEMATOGRAPHY: Emanuele Zarlenga
MUSICHE/MUSIC: Colombre
PRODUZIONE/PRODUCED BY: Reef Comunicazione, 9.99 Films, Kahuna Film, BMovie Italia, Viva Productions
FILMOGRAFIA DEL REGISTA/DIRECTOR'S FILMOGRAPHY:
Quiete (1996), Tuttintrusi (1998), Gonfiate la bambola! (2000), Appena prima di partire (2007), Showtime 9.15 (2007), At the End of the Day (2011), Vivi (2012), La Santa (2013), Estoy Viva (2014), Subsonica Day (2015), Zeta (2016)
Giulia si prepara a trascorrere un week-end con Lucio. Tuttavia, ad aspettarla nella villa non trova lui ma tre sconosciute. Sono le altre amanti di Lucio che, come lei, hanno ricevuto lo stesso messaggio due giorni prima. L'uomo è irreperibile e tra di loro serpeggia una sola domanda: perché ha voluto riunirle?
Giulia is getting ready to spend the weekend with Lucio. However, waiting for her at the villa are three unknown women. They are Lucio's other lovers, who have also received his same text message two days prior. The man is unreachable and only one question lingers in their minds: why did he want to bring them together?
SIIVOOJA
DONNA DELLE PULIZIE
CLEANING LADY
16' 28'' – 2019 Finland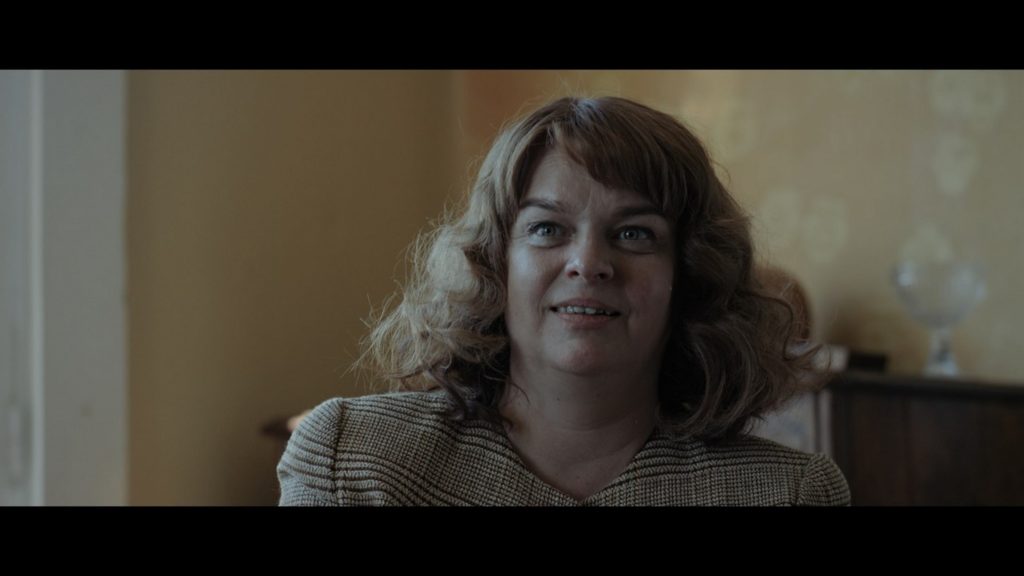 REGIA E SCENEGGIATURA/DIRECTION AND SCRIPT: Teemu Nikki
INTERPRETI/CAST: Elina Knihtilä, Tommi Eronen, Pihla Penttinen
FOTOGRAFIA/CINEMATOGRAPHY: Sari Aaltonen
MONTAGGIO/EDITING: Teemu Nikki
PRODUZIONE/PRODUCED BY: It's Alive Films
FILMOGRAFIA DEL REGISTA/DIRECTOR'S FILMOGRAPHY:
Kaveri (2008), 3 Simoa (2012), Verhon takaa (2013), Tissit (2015), Lovemilla (2015), Halko (2016), Fantasia (2016), Armomurhaaja (2017), Pilkkihiihto (2018)
Quando la scrittrice Katariina Ohtola decide di cambiare vita, vengono chiamati in aiuto l'editore, una giornalista e una donna delle pulizie.
When author Katariina Ohtola decides on a change, the services of a publisher, a reporter and a cleaning woman are called for.
SONRISAS
SORRISI
SMILES
13' – 2019 Spain – ANTEPRIMA ITALIANA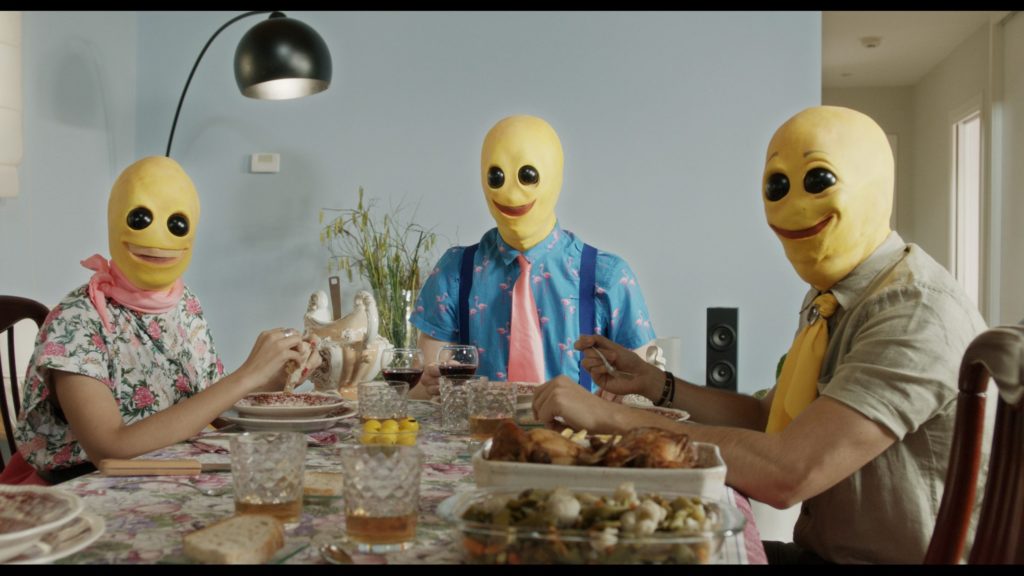 REGIA E SCENEGGIATURA/DIRECTION AND SCRIPT: Javier Chavanel Fraile
INTERPRETI/CAST: Luis Miguel Jara, Loreto S. Santamaría, Alejandro Sigüenza, Alba Sánchez, Eduardo Montoro
FOTOGRAFIA/CINEMATOGRAPHY: Carlos Iglesias
MONTAGGIO/EDITING: Javier Chavanel
PRODUZIONE/PRODUCED BY: Miguel Ángel Lozano
FILMOGRAFIA DEL REGISTA/DIRECTOR'S FILMOGRAPHY:
Un hombre dulce (2017)
Borja sta per conoscere i genitori della sua ragazza. È un momento delicato, potenzialmente imbarazzante. Tuttavia, nulla avrebbe potuto preparare Borja al doloroso incontro che lo aspetta. La soluzione migliore è sorridere e sperare che passi in fretta.
Borja is about to meet his girlfriend´s parents. It's a delicate moment, with the potential for awkwardness. However, nothing could have prepared him for the painful encounter that he's about to make. The best solution is to smile and hope for it to be over soon.
TEMPUS FUGIT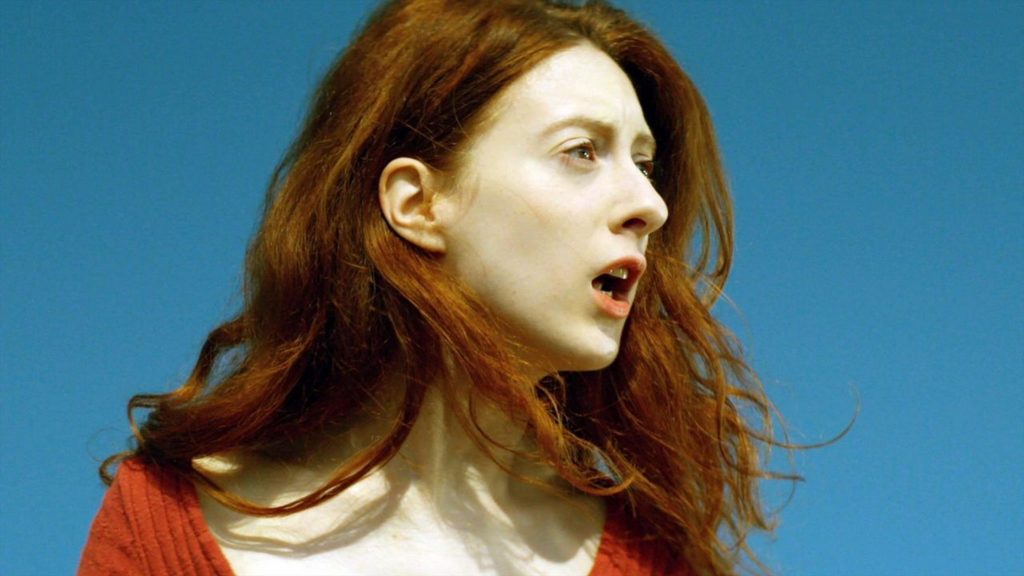 20' – 2019 France – ANTEPRIMA ITALIANA
REGIA E SCENEGGIATURA/DIRECTION AND SCRIPT: Lorenzo Recio
INTERPRETI/CAST: Roxane Duran, Philippe Laudenbach, Dominique Jayr, Kevin Dias
FOTOGRAFIA/CINEMATOGRAPHY: Dylan Doyle
MONTAGGIO/EDITING: Baptiste Ribrault
MUSICHE/MUSIC: The Penelopes
PRODUZIONE/PRODUCED BY: Caïmans Productions
FILMOGRAFIA DEL REGISTA/DIRECTOR'S FILMOGRAPHY:
Minotaure's Ball (1997), L'infante, l'ane et l'architecte (2001), Le marin acephale (2005), Lisa (2008), The Red Shoes (2011), Shadow (2014)
Jeanne e Paul, due settuagenari, conducono una tranquilla e monotona vita da pensionati nel sud della Francia. Durante un'ondata di caldo, l'improvvisa comparsa di un fiume stravolgerà le loro vite.
Jeanne and Paul, two septuagenarians, lead a quiet and dreary retiree life in the south of France. During a heatwave, the sudden appearance of a river will severely disrupt their lives, to the very depths of their flesh.

THE 100TH VICTIM
LA 100ª VITTIMA
20' – 2018 Canada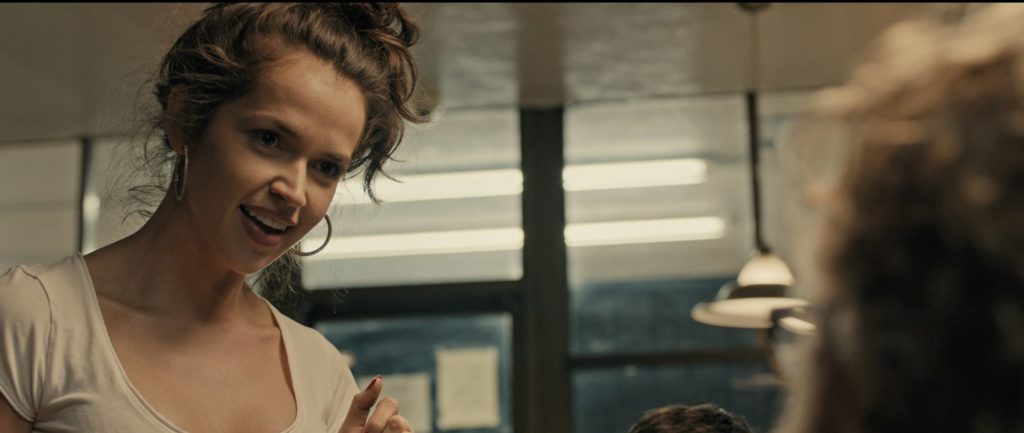 REGIA E SCENEGGIATURA/DIRECTION AND SCRIPT: Anthony von Seck
INTERPRETI/CAST: Devon Graye, Tamara Duarte, Anthony von Seck, Tymothy Paul Coderre
FOTOGRAFIA/CINEMATOGRAPHY: Edward Salerno JR
MONTAGGIO/EDITING: Anthony von Seck
MUSICHE/MUSIC: Anthony von Seck
PRODUZIONE/PRODUCED BY: Daymaker Productions, SandBay Entertainment Inc.
FILMOGRAFIA DEL REGISTA/DIRECTOR'S FILMOGRAPHY:
Fish Bait (1998), Mercy Seed (2006), Feist: Honey Honey (2008), Look at What the Light Did Now (2010)
Un assassino confessa la sua bizzarra serie di esperimenti a un blogger per il LA Times.
A killer confesses his bizarre series of experiments to a blogger for the LA Times.
TOMORROW ISLAND
ISOLA DEL DOMANI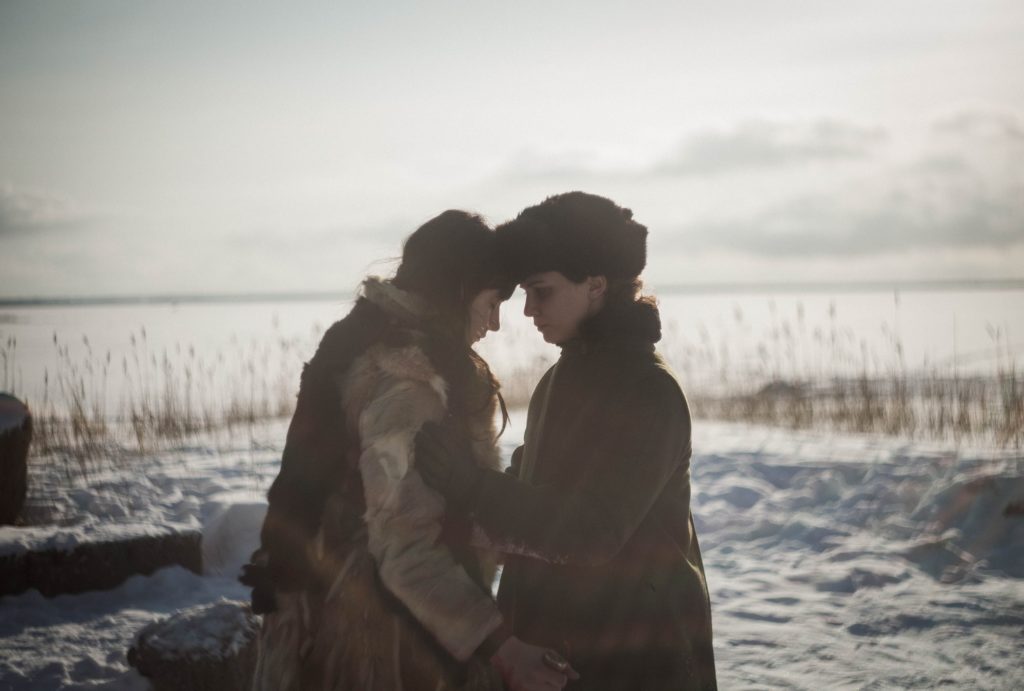 16' – 2018 Estonia, UK, Portugal
REGIA/DIRECTION: Gwenn Joyaux
SCENEGGIATURA/SCRIPT: Ana Falcon
INTERPRETI/CAST: Daryna Butryk, Mira Gaydarova
MONTAGGIO/EDITING: Abdallah Sada
MUSICHE/MUSIC: Haendel Gabriel, Guerrero Solis
PRODUZIONE/PRODUCED BY: Kino-Eyes Master Consortium
FILMOGRAFIA DEL REGISTA/DIRECTOR'S FILMOGRAPHY:
A (2005), Ojta, Journal Intime De LeDistance (2008), Volcan (2010), Cenizas (2012), Las Dos Mitades (2017), Esto No Es Una Despedida (2018)
Agli albori della Guerra Fredda, dopo aver ricevuto un messaggio sulla chiusura del confine, una giovane telegrafista sovietica tenta disperatamente di evitare che la sua amante americana rimanga bloccata nel lato russo dello Stretto di Bering.
At the dawn of the Cold War, a young Soviet telegraphist makes a desperate attempt to save her American lover from being stranded in the Russian side of the Bering Strait, after having received a message on the closing of the border.
TRI SESTRI
TRE SORELLE
THREE SISTERS
8' – 2019 Russia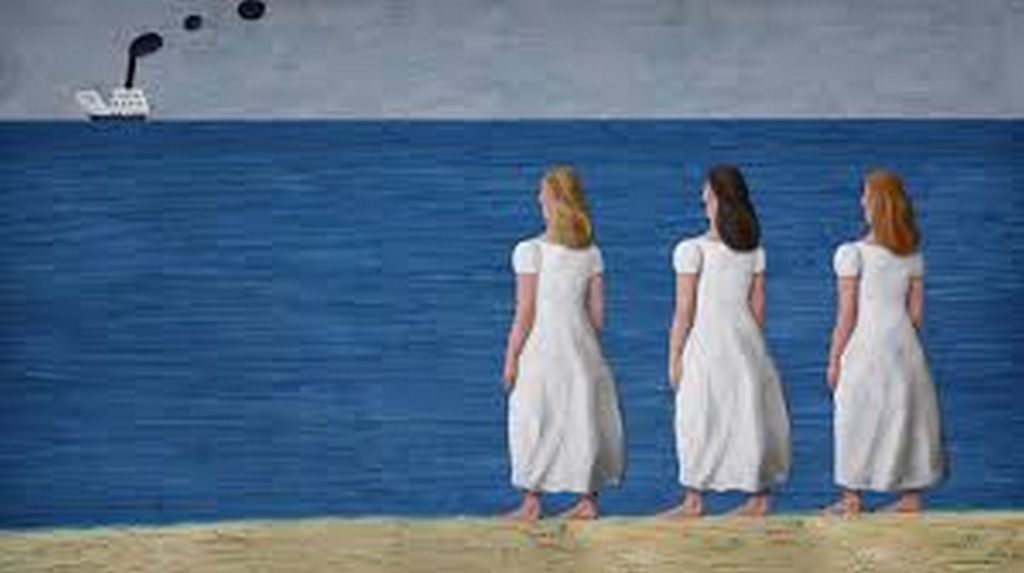 REGIA E SCENEGGIATURA/DIRECTION AND SCRIPT: Svetlana Andrianova
MUSICHE/MUSIC: Fa "Lindo" Dubrovnik
PRODUZIONE/PRODUCED BY: Soyuzmultfilm film studio
FILMOGRAFIA DEL REGISTA/DIRECTOR'S FILMOGRAPHY:
Poet and the Moon (1997), Mistery (1999), Outlook (2001), Player (2007), Green Teeth (2011), Prankster (2011), Something About Me (2013), Zvezdochka (2014), Tender Owls (2015), Two Trams (2016), There Was a House (2017)
Ispirato alla leggenda montenegrina Casa delle Tre Sorelle.
Based on Montenegrin legend House of the Three Sisters.
ZAIN
ATTESA
WAITING
12' 35'' – 2018 Spain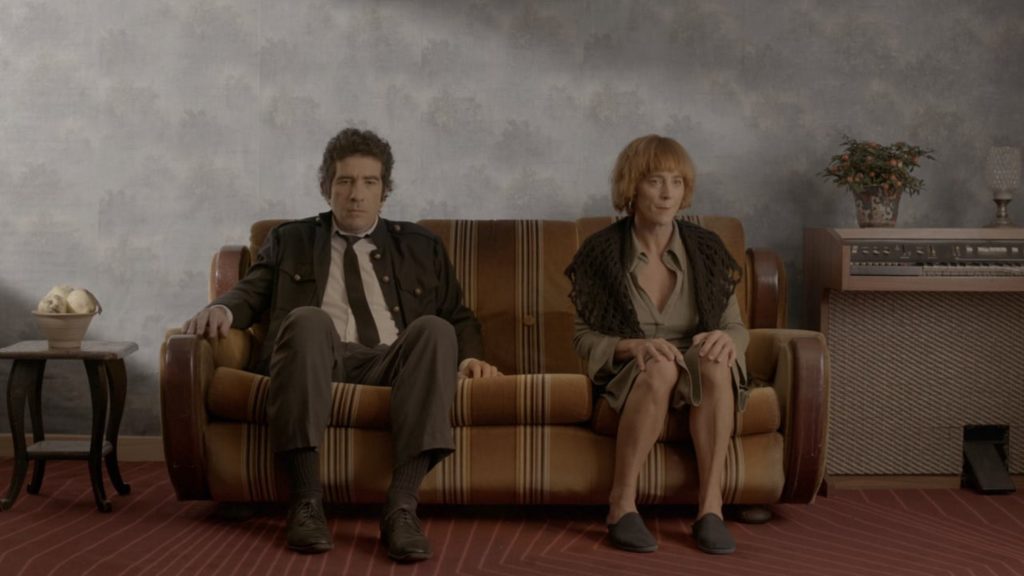 REGIA E SCENEGGIATURA/DIRECTION AND SCRIPT: Pello Gutierrez
INTERPRETI/CAST: Javier Barandiaran, Ainhoa Alberdi
FOTOGRAFIA/CINEMATOGRAPHY: David Aguilar
MONTAGGIO/EDITING: Pello Gutierrez
MUSICHE/MUSIC: Muskulo
PRODUZIONE/PRODUCED BY: Zazpi t'erdi Produkzioak
FILMOGRAFIA DEL REGISTA/DIRECTOR'S FILMOGRAPHY:
Heroínas Sem Nome (2011), Abuztua (2014), Ozpinaren Sindromea (2017)
"Non chiedermi il motivo occulto di tutte le cose oscure, o dove ci porta il cammino del volubile tempo"
"Don't ask me about the hidden reason of all dark things, or where the path of fickle time leads us"
ZDRAVSTVUJTE, RODNIYE
CIAO, MIEI CARI…
HELLO, MY DEARS…
3' 30'' – 2019 Russia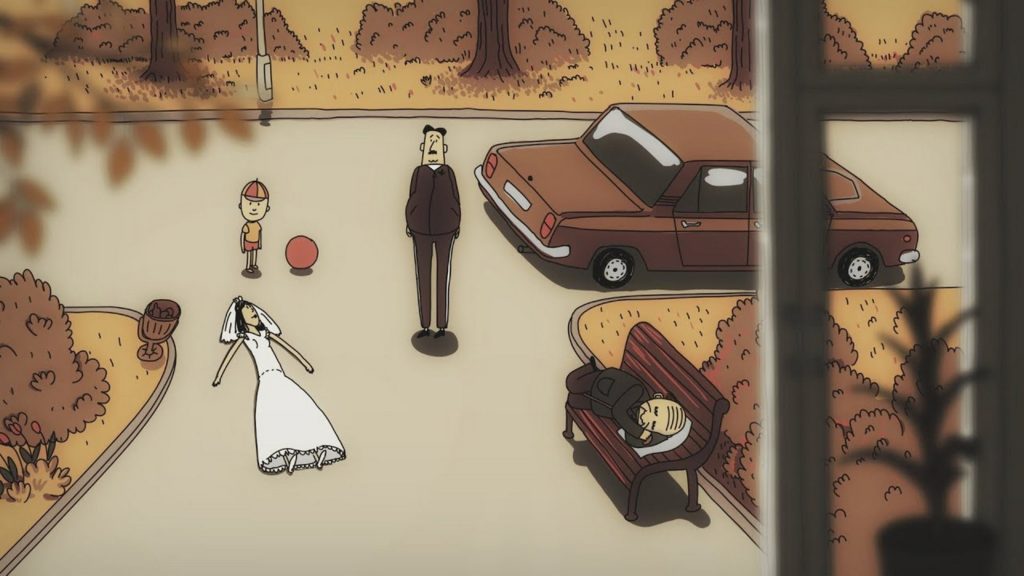 REGIA E SCENEGGIATURA/DIRECTION AND SCRIPT: Alexander Vasiliev
FOTOGRAFIA/CINEMATOGRAPHY: Alexander Vasiliev
MONTAGGIO/EDITING: Alexander Vasiliev
MUSICHE/MUSIC: Frédéric Chopin
PRODUZIONE/PRODUCED BY: School-Studio SHAR
FILMOGRAFIA DEL REGISTA/DIRECTOR'S FILMOGRAPHY:
Periphery (2017)
Un'anziana signora aspetta i suoi amati parenti. All'arrivo sono un po' strani, ma solo a prima vista.
An old lady waits for her dear relatives. Her relatives arrive. They are a bit strange, but only at first glance.